'Assassin's Creed Origins' has already doubled the initial sales of the previous installment. Dare I say, killing the sales charts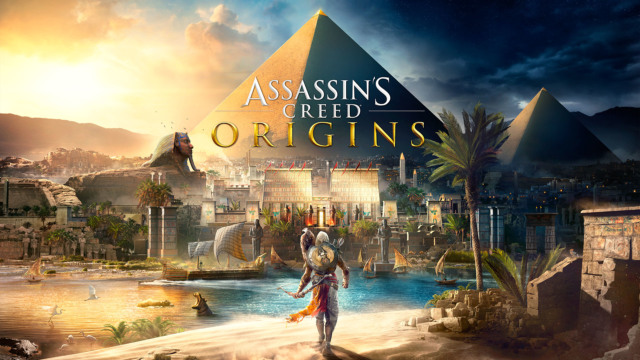 The latest AssCreed has doubled the sales of the previous title across the same launch period. Drink that the fuck in. I'm not surprised though, because everything I've read about Assassin's Creed Origins suggests that at the very least, it's fun. A reinvention of a viscous formula? Not quite. However, the impression seems that the franchise benefitted from actually, oh I don't know, taking a fucking year off. So, here's hoping that Ubisoft makes the connection between the uptick in sales, and the deannualization of AssCreed.
Ubisoft has released its earnings report for the first half of its fiscal year. Although it didn't launch until after that period, perhaps the most striking result the publisher had to share was a major boost in sales of Assassin's Creed Origins compared with the previous game, Assassin's Creed Syndicate.

On a "comparable basis," which in this case looks at units sold during their first 10 days, sales of Origins are double that of Syndicate. Ubisoft unfortunately didn't provide specific sales figures, but this is an encouraging sign for the company after it gave the franchise a year off. Despite a generally positive response, Syndicate sales were down in 2015 due to the notoriously buggy launch of Assassin's Creed Unity in 2014. During a post-earnings conference call, CEO Yves Guillemot declared that the series is "officially back."

Ubisoft's total sales during the second quarter were €264.2 million, while during the first half overall, they were up 65.7% year-over-year to €466.2 million. The company attributed the growth to Mario + Rabbids: Kingdom Battle and sales of its older games: Rainbow Six Siege, Ghost Recon: Wildlands, and For Honor.

CFO Alain Martinez said Wildlands in particular has a "bright and exciting future" and boasted about the strong continued performance of Siege. He also noted that Mario + Rabbids sold better than expected and should have a "stronger than usual" sales tail as more people get their hands on Nintendo Switch. As revealed previously, Kingdom Battle is the Switch's best-selling third-party title.

The industry-wide shift toward digital continues to go well for Ubisoft. Digital revenue was up 69.1% year-over-year to €342.6 million. And with the publisher so heavily focused on keeping its existing games such as Siege and Wildlands alive, player recurring investment (a category that includes things like DLC and subscriptions) was up 82.9% to €174.5 million.