First 'Deadpool 2' poster gets us ready for Thanksgiving by riffing on a classic Rockwell painting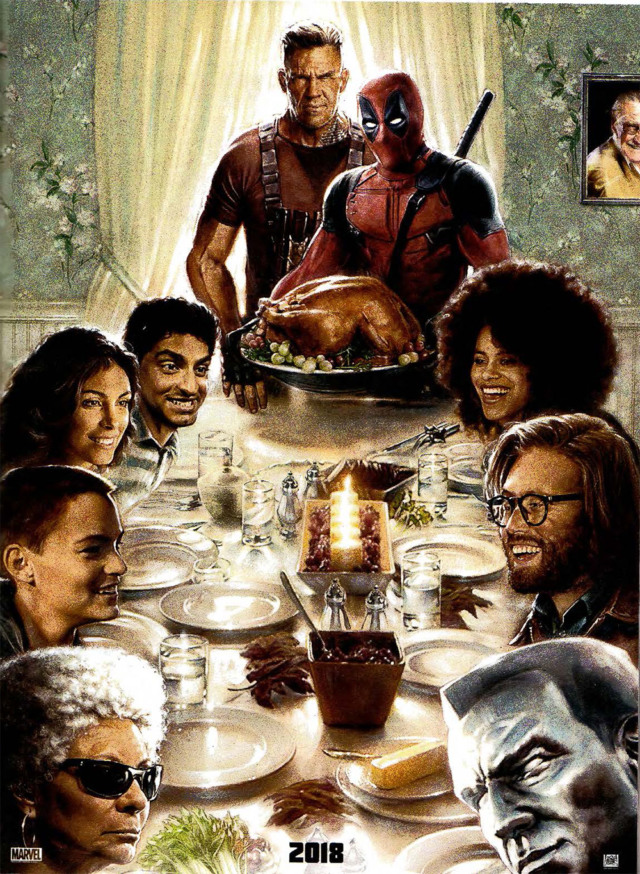 Yo! Check out the first poster for Deadpool 2, which carries on the franchise's satirical bent. As we inch closer to needing more inches on our belts, the movie's promotional team has dropped a poster that spoofs a classic Rockwell painting.
For more info and a look at the original painting, hit the jump.
20th Century Fox has released the first Deadpool 2 poster, and in keeping with the hero's silly antic's, it's definitely non-traditional. The poster is a play on a Norman Rockwell painting as it brings all the major characters together at the Thanksgiving dinner table, with Josh Brolin's Cable looming behind Ryan Reynolds' title character as Deadpool attempts to serve the turkey.

This is in keeping with the personal touch that permeated the marketing for the first Deadpool, as Reynolds himself participated in, crafted, and debuted a number of things that helped promote the R-rated superhero pic. It paid off to the tune of $783 million worldwide, so clearly Fox trusts its team to get silly with it once more. Since the film doesn't hit theaters until next summer, this is merely the first in what I'm sure will be plenty of new posters, images, clips, and trailers that will be coming our way. But with this poster debut dropping now, we should be getting a teaser trailer soon.

In addition to adding Brolin as Cable, Deadpool 2 stars Zazie Beetz as Domino, Morena Baccarin as Vanessa, T.J. Miller as Weasel, Brianna Hildebrand as Negasonic Teenage Warhead, Leslie Uggams as Blind Al, Stefan Kapicic as Colossus, and Karan Soni as Dopinder. John Wick co-director and Atomic Blonde director David Leitch takes the helm this time around, with Rhett Reeseand Paul Wernick returning to pen the screenplay.

Check out the first Deadpool 2 poster below and click here to check out the special Deadpool edition of Good Housekeeping. The film opens June 1, 2018.