Ron Howard reshot nearly all of the 'Han Solo' movie. So, here's me giving no fucks about it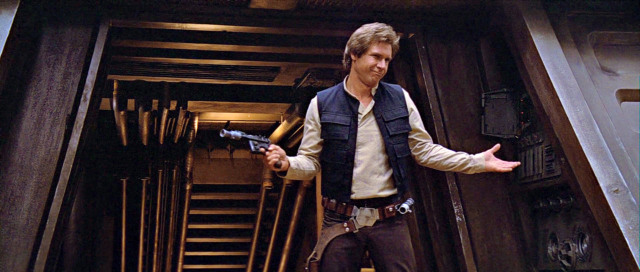 Man. There was trepidation in my balls when it was announced that Ron Howard was replacing Lord and Miller on the Han Solo movie. Now, I'm pretty much checked out on the entire fucking enterprise. I mean, Howard nearly reshot all of it? Here's to overwhelming vanilla banality and weepy sentiment. His two favorites.
Solo: A Star Wars Story has had a tumultuous history, with original directors Phil Lord and Chris Miller departing the project four months into production, reportedly due to a conflict with longtime Star Wars contributor Lawrence Kasdan and Lucasfilm President Kathleen Kennedy.

Ron Howard became the director for the film following Lord and Miller's departure, and while it's never officially been stated just how much of the movie Howard has re-shot, a new report indicates that his changes are substantial.

According to podcast The Resistance Broadcast, Howard re-shot "nearly all" of the upcoming spin-off movie, resulting in the budget doubling, which also means that much of Lord and Miller's cut won't appear on the big-screen any time soon.

Considering that production costs on The Force Awakens and Rogue One were reportedly $245 million and $200 million, respectively, the budget for Solo will likely be quite high. However, as both of those films cleared $1 billion worldwide, it's unlikely that the newest spin-off will lose money, especially considering its focus on fan-favorite character Han Solo.

Production details have previously hinted at the extent of Howard's changes. As he was unavailable for filming, Michael K. Williams's (The Wire) character was reportedly re-cast, with Paul Bettany (Avengers: Age of Ultron) taking over the role.

Arriving May 25, 2018, Solo: A Star Wars Story stars Alden Ehrenreich as Han Solo, Donald Glover as Lando Calrissian and Joonas Suotamo as Chewbacca, in addition to Emilia Clarke, Thandie Newton, Phoebe Waller-Bridge and Woody Harrelson.