Lindelof teases start of 'Watchmen' HBO series production. I'm both scared and aroused.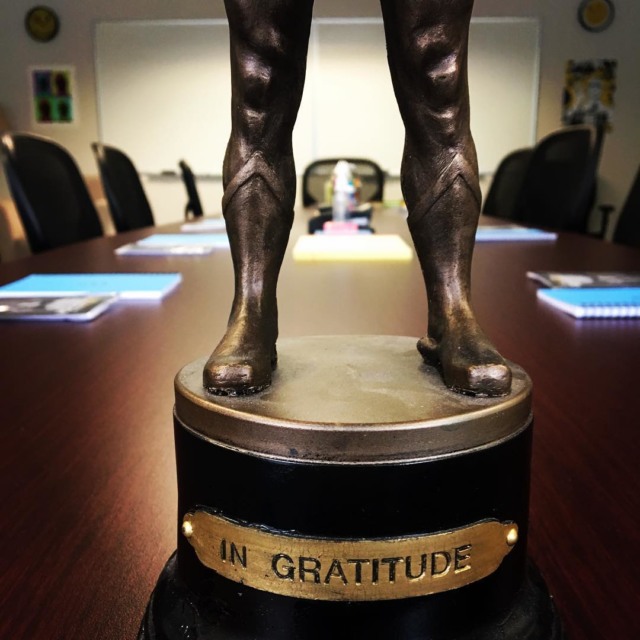 If Lindelof's Watchmen series was directly following LOST, I would be worried as fuck. However, most of the people I've talked to said his work on The Leftovers fucking rocked. So, this guy? He's going to be cautiously optimistic.
Back in June, a television adaptation of Watchmen — the seminal 1986 DC Comics miniseries by Alan Moore and Dave Gibbons — was rumored to be in early development at HBO, with Damon Lindelof (Lost, The Leftovers) in talks to helm the series. Now, a recent social media post suggests that Lindelof is fully on board and that the series has just gone into pre-production.

Taking to Instagram, Lindelof posted a photo of the statue that Hollis Mason, the original Nite Owl, received as a reward for his many years of service as a costumed adventurer, along with the caption, "Day One." This, of course, is the very same statue that Derf, the leader of the "Knot-Tops" gang, would use to kill Mason after attacking him in his home in the graphic novel.

Created by Alan Moore and Dave Gibbons, Watchmen is the story of an alternate history in which superheroes first emerged in the 1940s, drastically altering the course of history. Set in 1985, as the United States and the Soviet Union inch ever closer to World War III, the comic centers on the investigation into the murder of the former costumed government agent the Comedian, which leads to the discovery of a deadly conspiracy to defuse the powder keg and bring peace to the world at the expense of millions of lives.

In July, Lindelof cast doubt on his role in the Watchmen series, citing his deep admiration for the source material and his fear of potentially not doing it justice as the reason. "I've been very vocal about my love for those 12 issues … that they were completely and totally inspiring for all the storytelling that I did subsequently, and that I owe a debt to it," Lindelof said at the time. "I do feel like I have to weigh the balance of 'should it exist' before I decide to take it on, and I'm sort of in that process now. I hold the source material in such high regard, it would literally be the worst feeling in the world to screw it up … all I can say is I'm thinking about Watchmen a lot right now."

If his Instagram post is anything to go by, though, Lindelof will likely be thinking about Watchmen even more now.

Best known for his work on Lost, the rebooted Star Trek films and Ridley Scott's Prometheus, Lindelof just wrapped three seasons of The Leftovers on HBO.

The Watchmen series does not currently have a release date.