Affleck's 'Batman' movie is not part of the DCEU, for whatever that's worth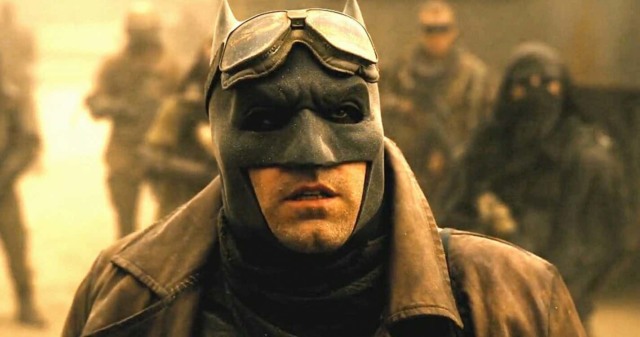 Ben Affleck's The Batman is not going to be a part of the DC Extended Universe. A standalone, if you will. I'm fine with it, but I guess I don't really fully understand what it means. Will there simply be no mention of the Snyder flicks? Will its narrative go so far as to deny or contradict developments in the DCEU? Who the fuck knows.
That said? All-in-all as they say, perhaps without hyphens? I think this is a good development. Allows Reeves and Affleck the ability to disregard whatever bullshit they want, and let's be frank. Almost all of the fucking DCEU to this point has been that: bullshit.
According to director Matt Reeves, the upcoming Batman movie will not be a part of the DC Extended Universe. The movie, tentatively known as The Batman, is instead being developed as a standalone story.

Reeves exact wording, from an interview with KCRW, makes it seem pretty clear that his take on the Caped Crusader will be its own thing. "I have a vision for a way to do something with that character that feels like it resonates with me personally, and a perspective that can grow out into other things," Reeves said. "When they [Warner Bros.] approached me, what they said was, 'Look, it's a standalone, it's not part of the extended universe.'"

After yesterday's revelation that Warner Bros. is developing a Joker origin movie, it might appear that Reeves' Batman film might be the second project involving DC Comics-based films set outside of the DC Extended Universe.

However, the interview with Reeves took place a month ago, well ahead of the Joker/alternate continuity films announcement. It's possible, probably even likely, what Reeves means is that his and Ben Affleck's movie is separate from the upcoming Justice League film, much like Wonder Woman. Meaning you don't need to watch everything that came before it to understand what's going on, and it likely won't involve many, if any, guest-stars from across the DCEU.

The War of the Planet of the Apes director had already announced that he'd scrapped the script written by Affleck and DC Entertainment president Geoff Johns in favor of his own. "It's a new story. It's just starting again. I'm excited about it. I think it's going to be really cool." Affleck's script included the villainous Deathstroke – played by Joe Manganiello – as the main antagonist; at this point, it's anybody's guess as to whether he'll remain in the movie.

Affleck will next portray the Dark Knight in WB's Justice League, which hits theaters on November 17, 2017. The upcoming Batman movie does not have an official release date at this time, although a 2019 release seems likely.