[Update: No] John Boyega might be joining Marvel's 'Black Panther'; Moses! Moses! Finn! Finn!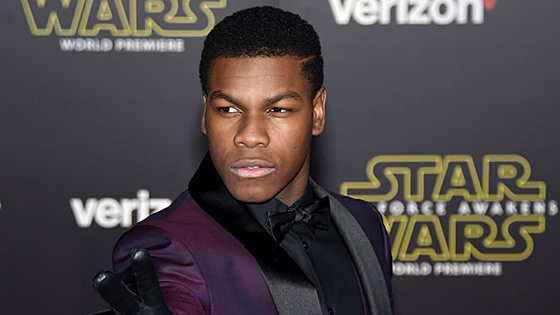 If John Boyega really joins the already-stacked cast of Black Panther, I'm going to die. My fanboy-balls-brain will explode, covering the screen in joy and meat-matter.
As it is, the cast for Ryan Coogler's Black Panther is almost staggeringly great. In addition to Chadwick Boseman as the title character, it's got Lupita Nyong'o as a possible love interest and Michael B. Jordan as a potential villain. Plus, there's a decent chance Andy Serkis, Martin Freeman, and Florence Kasumba could reprise their roles from previous Marvel movies.

But Coogler's not done. A new rumor going around this week suggests Star Wars: The Force Awakens star John Boyegacould also be up for a part in Black Panther.

Here's the part where we gently but firmly suggest everyone take a deep breath, take a step back, and take a big grain of salt with whatever comes next. The John Boyega Black Panther story is just speculation for now. No one official has confirmed anything; this is just a combination of whispered rumors and circumstantial evidence. But the idea of Boyega joining Black Panther is just too juicy to ignore, so here we go.

Heroic Hollywood has heard that Boyega has had meetings for Black Panther. Meanwhile, Best of Marvel has noticed that Boyega Snapchatted about a mysterious meeting just minutes before Marvel Studios president Kevin Feige started following him on Twitter. Like Nyong'o, Boyega is already part of the Disney family thanks to Star Wars, though the two mega-franchises have less casting overlap than you might expect.

Now, this could be nothing. Boyega surely has all sorts of meetings about all sorts of things all the time, and it's possible Feige is following Boyega for the same reason the rest of us are: because he is charming and hilarious. But it sounds somewhat plausible, if only because it's clear Marvel and Coogler have been able to attract some real heavyweight talent for this project. For what it's worth, Boyega does seem to be a Marvel fan; back before Boseman locked in the role, Boyega dropped a few half-joking hints about wanting in.

If Boyega does sign on, that'd be amazing — he's a phenomenally talented and charismatic actor and we'd be eager to see him rub up against Boseman, Chadwick, and Nyong'o (presumably in non-CG form this time). But given that he's already leading one of the biggest film franchises on the planet, we should be seeing plenty of him in the near future either way.
[Update: According to his agent, it ain't happening. Bummer.]