'Edge of Tomorrow' Sequel is moving forward, Doug Liman directing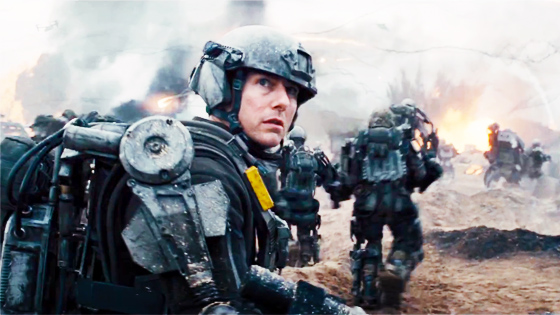 I enjoyed Edge of Tomorrow, but it was my no means a runaway success. That said, I'm excited that it is getting a sequel, even if I have no idea what the fuck it it will look like.
Everyone involved in the first Edge of Tomorrow has been talking about a sequel for a while; they'de love to do it, it depends on timing, we have an idea, all that kind of stuff. Well now, for the first time, a significant step toward actually making the thing has been taken.

Christopher McQuarrie, who wrote the first movie, is now attached to direct with writers Joe Shrapnel and Anna Waterhouse (who just wrote the Jesse Owens film Race) doing the screenplay, according to Deadline.

Of course, this is great news, not least because Edge of Tomorrow was one of the best (if the most generically titled) movies of 2014. It means the parties involved are excited about this movie and have at least some general idea of where the story could go. You can bet McQuarrie, who not only wrote the original but is an Oscar-winning screenwriter, will have his say in Shrapnel and Waterhouse's script.

McQuarrie is currently prepping the sixth Mission: Impossible film, also with star Tom Cruise, which will happen first, so there's no schedule of when EoT2 may happen. It could be right after M:I6, or it could be a year or two after that, or it could be never, if the script isn't right.

Either way, if this movie does happen, I just hope there's some way to duplicate the mechanics and tone of the first movie with a story that's as engaging this time around.

[Deadline]
The long-rumored Edge of Tomorrow sequel just tapped Joe Shrapnel and Anna Waterhouse to write the screenplay, Deadline reports. Doug Liman, who directed the first Edge, is set to direct, despite some reports that Christopher McQuarrie would direct.

EDGE OF TOMORROW, AGAIN

In 2014's Edge of Tomorrow, Tom Cruise played a public relations officer sent to document a war against aliens capable of predicting the future and toying with time. After he's killed in combat, he gets stuck in a time loop that lands him back in the day before he dies, where he can help Emily Blunt's Rita Rose Vrataski win the war. The film was a slow-burning hit that eventually grossed around $100 million in the US and $270 million internationally, according to Deadline.

So far, the sequel has yet to be officially greenlit and plot details are still scarce. Cruise and Blunt are both rumored to be returning, but so far, neither has confirmed.