'Preacher' is premiering May 22, following 'Fear of the Walking Dead' midseason finale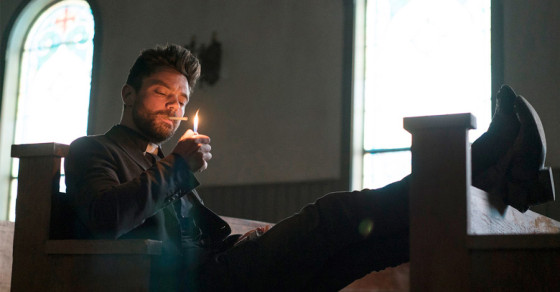 We officially know the date when we will get to see the premiere of the Preacher adaptation. The pilot will hit the airwaves-cablewaves-digiwaves immediately following Fear of the Zombie's Walking Shuffling Nightmare midseason finale on May 22.
At SXSW, AMC announced that "Preacher" will debut on Sunday, May 22 at 10 p.m. ET, immediately after"Fear the Walking Dead's" midseason finale.

According to Variety, an encore presentation of the pilot will air back-to-back on Sunday, May 29 at 9 p.m. ET. The series will resume Sunday, June 5 at its regular 9 p.m. ET time slot.

Developed by Seth Rogen and Evan Goldberg, "Preacher" stars Dominic Cooper as Jesse Custer, Joseph Gilgun as Cassidy, Ruth Negga as Tulip, Lucy Griffiths as Emily, W. Earl Brown as Sherriff Root, Anatol Yusef as DeBlanc, Tom Brooke as Fiore, Derek Wilson as Donnie Schenck and Ian Colletti as Eugene/Arseface.