'The Force Awakens' Official Poster; Trailer and Tickets tomorrow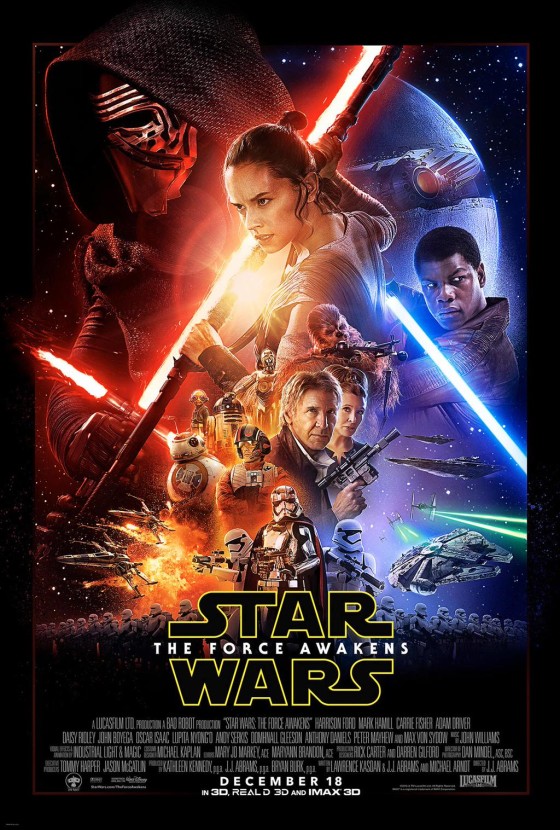 I'm losing my cool, man. Come in and lose your cool with me, if you're so inclined.
Has Disney convinced you to see Star Wars: The Force Awakens yet? If so, you're in luck, because we've learned just when you'll be able to buy tickets: tomorrow.

A specific time hasn't been announced just yet, but it's going to be a big day for the movie, which will also be premiering a new trailer during the Monday Night Football broadcast. Tomorrow's on-sale includes tickets for theaters across the entire globe, but it wouldn't be a massive franchise movie event if there weren't a number of insane franchise screenings, and Star Wars has that covered on many fronts.

The Star Wars Marathon Event will let fans watch all six of the previously-released movies starting December 17th, followed by some of the first Force Awakens screenings on December 18th. Fans will get a special lanyard for the event (shiny!), which will included non-3D versions of the films in digital projection.

Different theaters are offering their own kinds of promotions. Regal will be running what it's calling "Star Wars Saturdays"; every Saturday from December 19th to January 9th, the first 500 audience members at a given theater in IMAX will receive a special ticket with collectible art. (New art will come each week, so hurry-hurry-hurry!) AMC is doing something similar on Sundays, but it appears it will apply to all attendees and the gift is aStar Wars print from artist Dan Mumford.

Cinemark is handing out some special Star Wars-branded 3D glasses for fans that attend the movie marathon event, or if they see the movie in the theater chain's own "XD" large-screen format — or buy a particular soda/candy combo pack. I'm ranking these glasses pretty low on the FOMO Exclusivity Scale™. Perhaps unsurprisingly, it's the Alamo Drafthouse that's going to have the coolest tie-in of all: they're giving away a Force Awakens pint glass from Mondo.

It all starts tomorrow, so make your choices and choose wisely. If you're wondering if a theater near you is going to show the extended Star Wars marathon, there's a complete list of participating theaters right here.