Mary Jane Watson joining Bendis' 'Invincible Iron Man' supporting cast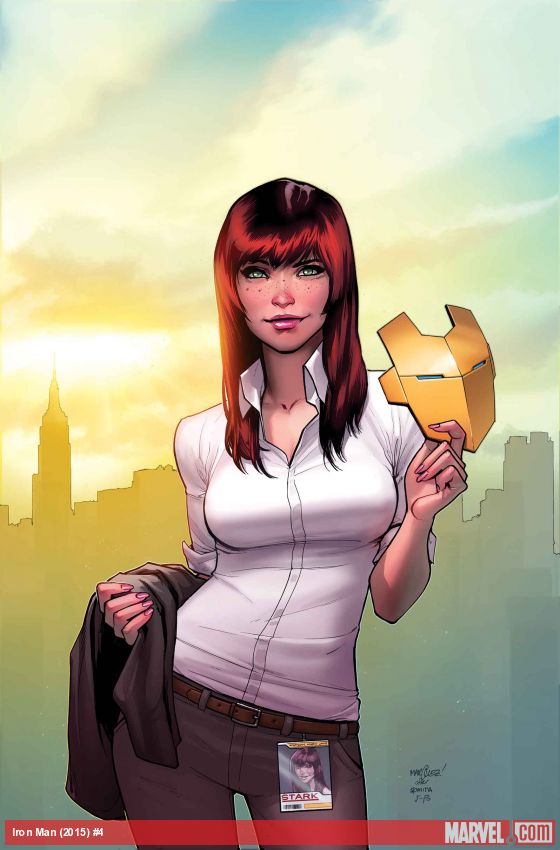 Mary Jane Watson is joining the pages of…Invincible Iron Man? Hey. I don't know. It could be cool. Marvel certainly seems to be shuffling around the status quo post-Secret Wars, and there's every chance the new deck (is this metaphor crumbling?) could be dope. What do you think.
Though a longtime supporting character for Spider-Man, Mary Jane Watson is headed in an all-new, all-different direction this winter when she joins Tony Stark's team in Brian Michael Bendis and David Marquez's "Invincible Iron Man" #4 (via Marvel.com).

"They know each other," Bendis explained. "She used to live in Avengers Tower. But that's all I'm going to say for now because what kind of relationship they end up having is a big part of what I would like people to buy the book for. But what I can tell you is that it is new territory for both Tony and Mary Jane. And that is pretty exciting to write."

"We were at one of our glorious Marvel publishing retreats and certain characters got brought up, sometimes almost accidentally, and I found out that nobody had anything going on with Mary Jane… I sat with that for a while and I always go to this place in my head where I [wonder] what the most interesting thing I would like to see that character do now and it fell right into the ideas I was already cooking for Tony Stark," he added.

"Invincible Iron Man," which launches this October, will find Tony Stark stepping into a new suit of armor and a new era of his life, as he tries to uncover the mystery of his parentage. In its fourth issue, Mary Jane will join the team in a new role. It is unclear whether this new role is related to "Invincible Iron Man's" sister title, which was announced but not named earlier this summer.

Tony Stark hits the jackpot this December in "Invincible Iron Man" #4.