Marvel's 'Secret Wars' event is expanding to nine issues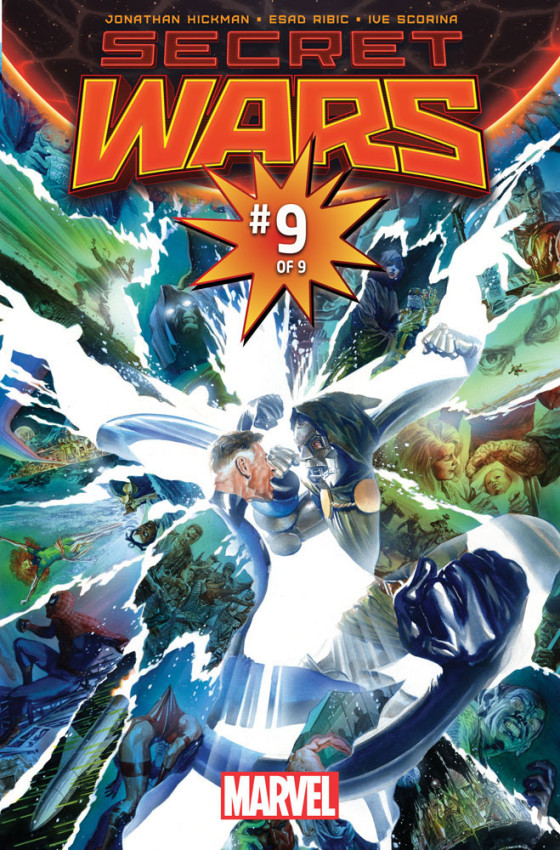 Marvel's Secret Wars is never going to end. Or so it seems. It's up to nine issues, and the final one ain't dropping until December. But that's okay, cause I'm digging the fuck out of this event.
Marvel has announced via press release that their massive "Secret Wars" event, which has reshaped the publisher's entire line since it's launch in May, has received an extension. The series from writer Jonathan Hickman and Esad Ribic, which was originally planned to finish with "Secret Wars" #8, will now receive one more issue. "Secret Wars" #9 will arrive in stores in December.

The release states that the issue was added to allow the creative team to finish their "cataclysmic story" as intended. Fans worried that the launch of "Secret Wars" will delay the launch of "All-New, All-Different Marvel" this fall need not worry, as David Gabriel (Marvel SVP Sales & Marketing) revealed in the release.

"This extra issue will not affect any of the new launches as part of All-New, All-Different Marvel," said Gabriel. "But there might be a surprise or two left over from Battleworld you weren't expecting. In fact, like the original Marvel Super Heroes Secret Wars, some of those puzzle pieces will hit the Marvel Universe before the event concludes. But if you want to see how they all fit together, you don't want to miss these last few issues."

While the newly-announced "Secret Wars" #9 arrives in December, Marvel's post-"Secret Wars" lineup will launch in October with the release of "Invincible Iron Man" #1, along with a number of other fresh starts.

"Secret Wars" #9, from Hickman and Ribic with a cover by Alex Ross, ships in December.