Space Swoon: Ceres' Lonely Mountain stands alone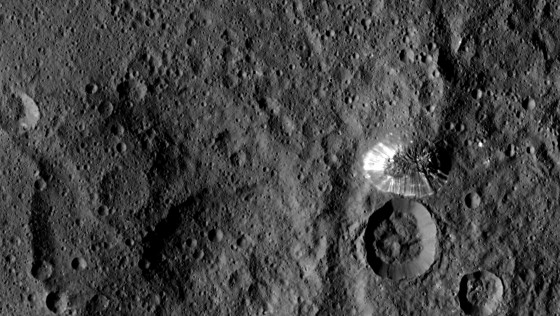 Check out this lonely mountain. NASA's Dawn space-craft sniped a lovely picture of it, just chilling in the southern hemisphere of the dwarf planet Ceres. Beckoning to us across space and time. To travel to it, to scale the peaks, to meet the space-elves that run their futuro-city from the top of the summit. Right?
NASA's Dawn spacecraft spotted this tall, conical mountain on Ceres from a distance of 915 miles (1,470 kilometers). The mountain, located in the southern hemisphere, stands 4 miles (6 kilometers) high. Its perimeter is sharply defined, with almost no accumulated debris at the base of the brightly streaked slope.

The image was taken on August 19, 2015. The resolution of the image is 450 feet (140 meters) per pixel.

Dawn's mission is managed by NASA's Jet Propulsion Laboratory for NASA's Science Mission Directorate in Washington. Dawn is a project of the directorate's Discovery Program, managed by NASA's Marshall Space Flight Center in Huntsville, Alabama. UCLA is responsible for overall Dawn mission science. Orbital ATK, Inc., in Dulles, Virginia, designed and built the spacecraft. The German Aerospace Center, the Max Planck Institute for Solar System Research, the Italian Space Agency and the Italian National Astrophysical Institute are international partners on the mission team. For a complete list of acknowledgments, see http://dawn.jpl.nasa.gov/mission.