'Star Wars: Rogue One' releases official photo, confirms Mads Mikkelsen, Alan Tudyk, rest of cast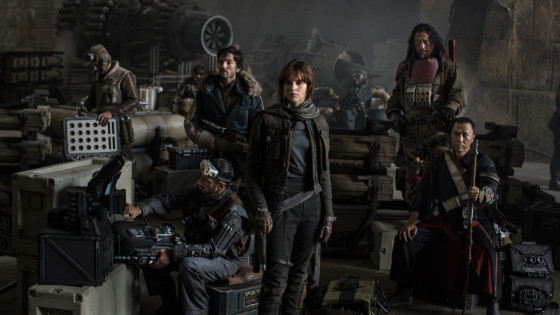 Man. Look at this fucking picture, yo. Gritty. Grimy. Dirty. Failed Future. A pack of filthy, degenerate bastards, and they're the Rebellion's best shot. Love it. If this picture is an accurate portrayal of what Gareth Edwards is going for, I'm picking up everything that he is putting down. And goddamn, the fucking cast! Sign me up.
"Star Wars: Rogue One" released the first image of the full cast at Disney's D23 Expo, confirming the stars as Felicity Jones, Diego Luna, Ben Mendelsohn, Donnie Yen, Jiang Wen, Forest Whitaker,Mads Mikkelsen, Alan Tudyk and Riz Ahmed.

"Rogue One" has begun principal photography with "Godzilla's" Gareth Edwards directing. The standalone film tells the story of resistance fighters who have united to steal plans to the dreaded Death Star. The film is produced by Kathleen Kennedy.

"'Rogue One' takes place before the events of 'Star Wars: A New Hope' and will be a departure from the saga films but have elements that are familiar to the 'Star Wars' universe," said Kennedy in a statement. "It goes into new territory, exploring the galactic struggle from a ground-war perspective while maintaining that essential 'Star Wars' feel that fans have come to know. Gareth is such an innovative director, and I'm so excited to be working with him and the extraordinary ensemble cast he's selected for 'Rogue One.'"

ILM visual effects supervisor John Knoll originated the idea for the movie, with Chris Weitz penning the script. Allison Shearmur, Knoll, Simon Emanuel and Jason McGatlin are executive producers. Kiri Hart and John Swartz are co-producers.

Greig Fraser ("Zero Dark Thirty," "Foxcatcher") serves as director of photography and Neil Corbould ("Black Hawk Down," "Gladiator," "Saving Private Ryan") is special effects supervisor. Doug Chiang ("Star Wars: Episodes I," "Star Wars: Episodes II," "Forrest Gump") and Neil Lamont (supervising art director for the "Harry Potter" series, "Edge of Tomorrow") will be the production designers. Additional crew members include stunt coordinator Rob Inch ("World War Z," Marvel's "Captain America: The First Avenger"), creature effects supervisor Neal Scanlan ("Prometheus") and co-costume designers Dave Crossman (costume supervisor for the "Harry Potter" series, "Saving Private Ryan") and Glyn Dillon (costume concept artist for "Kingsman: The Secret Service," "Jupiter Ascending").