First 'Ash vs Evil Dead' Photo: Blood-Covered and Ready To Rumble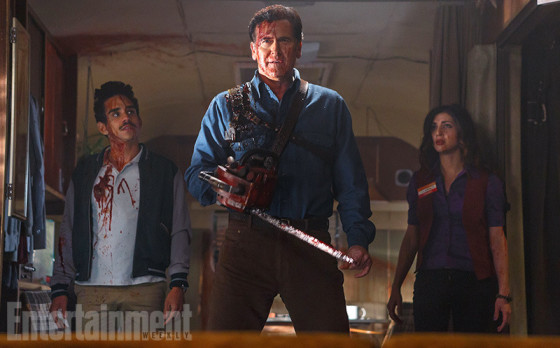 Ahead of Comic-Con International, Starz has unveiled the first look at Bruce Campbell as Ash Williams in "Ash vs. Evil Dead."

The image, debuted by Entertainment Weekly, shows an armed and blood-splattered Ash with his Value Stop co-workers Pablo (Ray Santiago) and Kelly (Dana Delorenzo). Yes, Ash is still a stock boy.

Premiering this fall, the television sequel to the cult movie franchise picks up with Ash having spent the past three decades avoiding maturity, and the terrors of the Evil Dead. But when a Deadite plague threatens to destroy all of mankind, he's forced to face his demons — both metaphorical and literal.

Campbell will headline an "Ash vs. Evil Dead" panel Friday, July 10, at Comic-Con, alongside Sam Raimi, Lucy Lawless and Rob Tapert.