George Miller's failed "Justice League' movie getting a documentary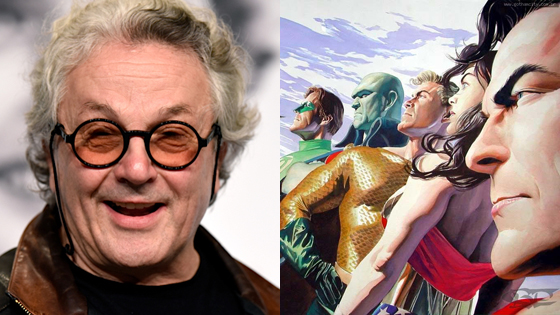 Man. After seeing George Miller's Fury Road, I'm pretty sure I'm ready to ride or die (TO VALHALLA) with anything he's doing. And I mean, could you imagine if he could to bring his aesthetic to a fucking cape movie? Oh dearie me. Instead we're going to be getting another Zack Snyder bloody, chunky, thrice-churned in pop culture banality turd.
Before Mad Max: Fury Road, before The Dark Knight, director George Miller had very nearly put together a complete cast for a Justice League film for release in 2009. And while it never saw the light of day, documentary filmmakers Ryan Unicomb, Aaron Carter and Steve Caldwell have announced plans to give the failed production the documentary treatment.

Despite the enduring legacy of Mad Max and its sequels, it's been a long time since George Miller directed an action film. It's not surprising that in the wake of Fury Road's success, there would be renewed interest in the story of a highly anticipated superhero adaptation that never made it to screens. At the point at which it was abandoned, Miller'sJustice League had already gathered an extensive cast, including Common as the Green Lantern Jon Stewart, Santiago Cabrera as Aquaman, Teresa Palmer as Talia al Ghul, Zoe Kazan and Adrian Brody as Iris and Barry Allen and Fury Road's Hugh Keays-Byrne (Immortan Joe) as the Martian Manhunter. The DC Trinity would have been rounded out by Armie Hammer as Batman, D.J. Cotrona as Superman and Fury Road's Megan Gale (The Valkyrie) as Wonder Woman.