Probably: Set photos confirm Ben Affleck's Batman totally appearing in 'Suicide Squad.'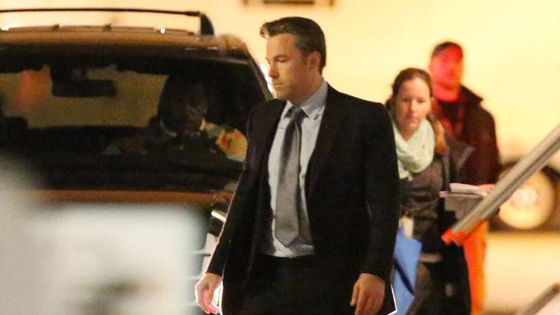 Hey! You want some Batman in your Suicide Squad? YOU GOT IT BRO.
Rumors of Ben Affleck, either as Bruce Wayne or Batman, showing up in David Ayer's Suicide Squad have been floating for months. There's still no official announcement but if a photo says a thousand words, maybe this is good enough.

Not only was Affleck caught by paparazzi at the airport in Toronto, where the film is being shot, he was caught on set, with black and white hair a la the latest version of Bruce Wayne.

That's almost certainly Affleck in Bruce Wayne garb on a film set, and the photographer says it's the Suicide Squad set.

As for the purpose of Affleck's visit, we don't know for sure. It's likely nothing more than a cameo as Ayer already has lots of other story to manage. We heard some rumblings of a relationship with Amanda Waller (Viola Davis) and Waller being in league with The Joker because he has some information about Batman. But this isn't Batman, it's Bruce Wayne. Who could he be in league with?
So Ben Affleck on the set of #SuicideSquad #BatmanvSuperman pic.twitter.com/FgjMTH6fpx

— Lindsay (@Steele131) April 28, 2015