Amazon: Hey RadioShack, we want to buy you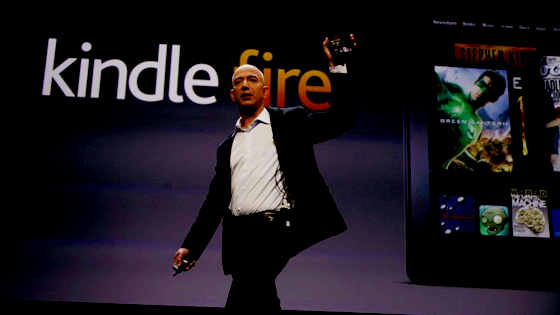 Big-ups to Amazon. They're reverse-engineering the IntangiFuture. Everyone is sloughing their corporeal forms and Amazon is worrying about "Brick and Mortar" and "Places to GO." To go! Holy fuck, Amazon. I love you because despite being a blight and a curse on small stores everywhere, you allow me to buy trade paperbacks of Saga at villainously low-prices, at 2 a.m. Drunk. And covered in fluids.
Amazon is reportedly in discussion with RadioShack to buy some of the company's brick-and-mortar stores after the troubled electronics chain files for chapter 11 bankruptcy. Bloomberg says that the Seattle-based e-commerce giant is considering using the stores as showrooms for its hardware, and as pick-up and drop-off centers for items purchased online. Both Amazon and Radio Shack declined to comment on the situation, but two people apparently familiar with the matter said that Amazon may use the locations to give people a chance to try its growing range of hardware, including its range of Kindle tablets, its Fire smartphone, and its new Echo speaker.

Radio Shack has been hemorrhaging money for the past two years, and saw its shares, which had been at less than $1 since November, drop 13 percent on Monday to $0.24. The 92-year-old company was suspended from trading on the New York Stock Exchange today after it notified the exchange it did not intend to submit a business plan, a move that sees it slip further towards bankruptcy. Amazon isn't the only company interested in the ailing RadioShack — mobile carrier Sprint has reportedly discussed purchasing between 1,300 and 2,000 of the company's 4,000-plus US stores, and may co-brand the venues with both companies' names.
But hey whatever, it's your choice.