First Look: 'Darth Vader' #1 variants by Alex Ross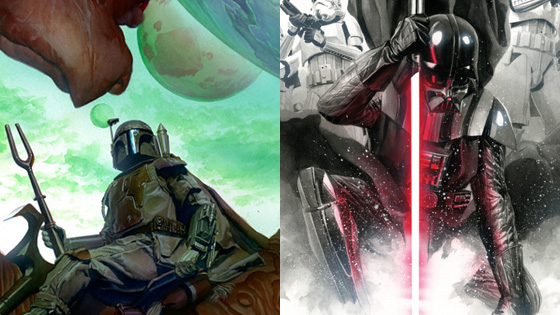 The uh. Two Alex Ross variants for Darth Vader #1. One. Is. Uh. A Boba Fett painting? The other is Vader dealing death.
As Comic Book Resources noted earlier this month, painter Alex Ross is creating limited-edition variant covers for Marvel's new Star Wars titles that will be sold exclusively through the artist's online store at AlexRossStore.com. We've already seen the painting of Luke Skywalker created for Star Wars #1, but today ROBOT 6 can exclusivelyreveal the Alex Ross Store variant for Star Wars: Darth Vader #1.

It's fan-favorite Boba Fett as he was introduced in the infamous 1978 Star Wars Christmas Special, riding a Paar's ichthyodont on the Mud Moon to find Luke Skywalker & Co., if only to gain their trust and uncover information for Darth Vader.Written by Kieron Gillen and illustrated by Salvador Larocca, Star Wars: Darth Vader #1 sports another, more widely available variant cover by Ross. The issue arrives Feb. 11. The Alex Ross Store variant will be available beginning Feb. 14.