Marvel remastering original 'Star Wars' comic adaptation in oversized format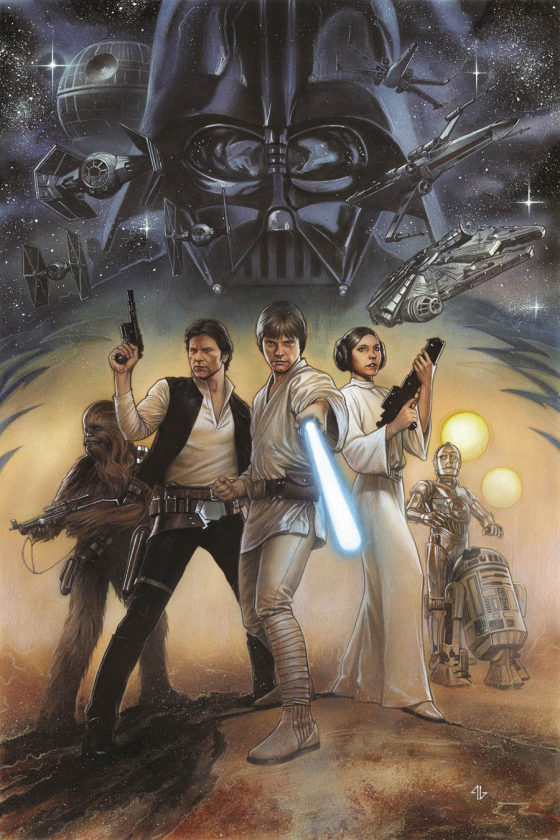 Looks like Marvel is remastering the original Star Wars comic book adaptation. This news is deeply interesting (okay not deeply) to me as someone who has never read this motherfucker.  Oversized? Recolored? I'm there, there.
Marvel Comics expands its growing line of "Star Wars" comics in May with the announcement of its plans for an oversized, remastered hardcover edition of the original adaptation of George Lucas' seminal creation.

Under a new cover by Adi Granov, Roy Thomas and Howard Chaykin's adaptation of "A New Hope" — fully recolored by Chris Sotomayor — will be reprinted in full, including the scenes which Marvel readers experienced in 1977 that never made it to the big screen in Lucas' final cut.

"When Star Wars took the world by storm in 1977, Marvel Comics was right there with exciting comic adaptations and new stories set in a galaxy far, far away," Marvel SVP Sales & Marketing David Gabriel said via press release. "With new Star Wars comics being published by Marvel in 2015, we're proud to look back on this exciting remastered adaptation of the original film, with remastered adaptations of The Empire Strikes Back and Return of the Jedi coming later in 2015."

"Start Wars: A New Hope" arrives in comic stores in May 2015.
Marvel, Disney, and Lucasfilm. Locking arms and running around the fucking 2015 ring, clotheslining consumers and slapping their fannies in a playful manner. Inundating the pop culture game with a fucking barrage of Star Wars content, letting you know the fucking Force is Back. Whether or not you like it.