'Episode VII' Non-News: John Williams has recorded teaser trailer music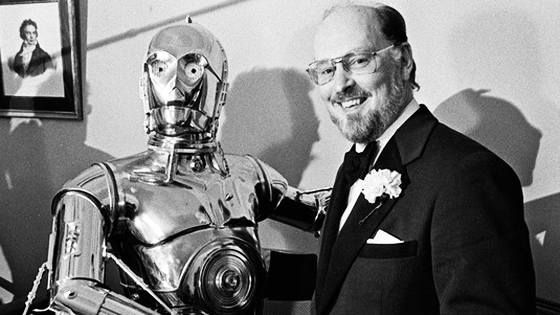 Here's some fucking Star Wars: The Force Awakens non-news. John Williams has officially recorded music for Episode VII's teaser trailer. Doesn't do anything for you? It's like those chaps Fall Out Guys said in that one song: I don't care if you don't care 'cause Pete Wendy's dick.  And if you didn't think this excites me, I have the crapped-pants and the remnants of the wall I ran through to prove it.
John Williams got the band back together, so to speak. He's rockin' the Star Wars tunes one night only.

We had heard in the past that Williams would be composing new cues for a potential teaser trailer premiering this year, possibly with Disney's Into The Woods. Today, we received several reports about John Williams recording Star Wars cues at a Sony scoring stage. The Maestro is apparently recording the music for the new Star Wars: The Force Awakens teaser. As we've mentioned before, we heard the rough edit of the teaser was just a little over a minute long, showing off new characters from the film and culminating with the return of the Falcon to the big screen! We also heard that this rough edit was cut to existing Star Wars cues. The music recorded today was described by one source as a medley. Most likely what is being heard features new tiny transitions to make all the various cues line up to hit the beats the editors of the teaser envisioned.

So is it new or old Star Wars music that was recorded today? Most likely you will not be hearing a new leitmotif, you'll have to wait until The Force Awakens is near release to hear that. Also the full score may not be recorded with the London Symphony Orchestra according to those in the know. John Williams has not left the country in ten years and he feels he's getting too old to travel abroad. Disney has apparently signed an agreement with the AFM (American Federation of Musicians) to keep movie and television score recording based in the United States. It is much cheaper to go abroad (hence why Kevin Kiner went to Prague to record The Clone Wars final scores with a live orchestra. Anyways, the probability that John Williams will record in Southern California is much more likely.