Hickman says Dustin Weaver has completed his 'S.H.I.E.L.D' art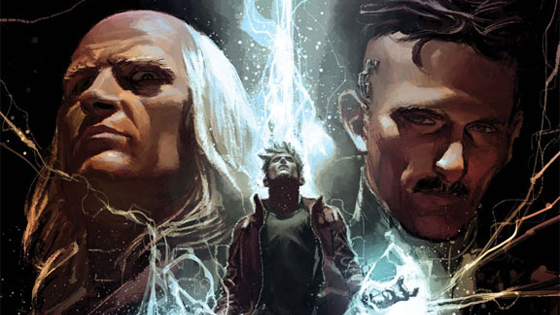 Man, I feel old as fuck. I know that I've been waiting for the Hickman/Weaver collaboration, S.H.I.E.L.D., to finish up for a while now. But I had no idea that it had been four fucking years since the series started. A series which while seemingly dismissed should not be forgotten. The son of a bitch was a glorious, frothy philosophical circle-jerk that still managed to squeeze in a goddamn shit-ton of glorious action and artwork.
Jonathan Hickman has confirmed via Twitter that artist Dustin Weaver has completed the art for the long-awaited conclusion to the duo's "S.H.I.E.L.D." series, which explored the secret history of the Marvel Universe's premiere peacekeeping organization.

The original series by Hickman and Weaver began in June 2010, following the secret history of an occult organization known as S.H.I.E.L.D. with previous agents in history like Zhang Heng, Galileo Galilei and Leonardo da Vinci. The series went on hiatus following the fourth issue of the "S.H.I.E.L.D." Volume Two in December 2011. With Hickman's report of Weaver's completion of the art, the conclusion of the series will hopefully see the light of day at last.

Hickman and Weaver continued to collaborate after "S.H.I.E.L.D." disappeared, with the duo most recently working together on Hickman's "Avengers" relaunch for Marvel NOW!. Hickman released no further details about the series — including when or if the issues would actually be released.
C'mon, Marvel. Please release this shit.