BORING: Benedict Cumberbatch is Marvel's Doctor Strange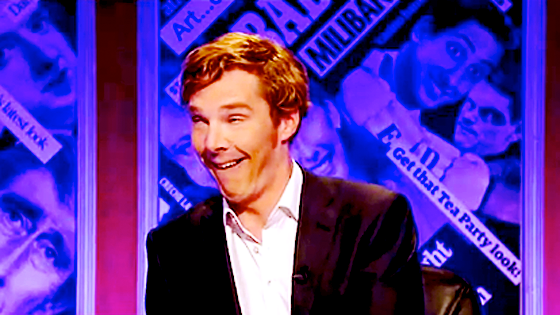 I wish I could tell you how many unfucks I give about this doubleplusungood casting. He'll probably be adequate, but I'm sick of his face. And out of all the purported contenders he's the least interesting choice. THE MYSTIC GAME IS AFOOT, TWATSON #yawn.
The 'Doctor Strange' casting has come full circle. After a series of stops and starts (we're looking at you, Joaquin Phoenix), Marvel has returned to one of the very first actors they had their eye on for their upcoming superhero movie: Benedict Cumberbatch. Deadline is reporting that the 'Sherlock' star is in "final negotiations" with Marvel to star in 'Doctor Strange' and, presumably, a number of other big 'Avengers' style crossover movies.

Marvel and director Scott Derrickson returned to Cumberbatch after seeing what felt like every actor in Hollywood. It's unclear whether Cumberbatch initially passed on the role, but Phoenix was the most serious candidate, almost sealing a deal prior to Comic-Con (with his casting planned to be announced on stage). That never came to fruition and Marvel returned to the drawing board, looking at actors as varied as Ewan McGregor, Jared Leto and Ethan Hawke.

They returned to Cumberbatch, however, and if we may, the first choice may have been the best one. We'd have been curious to see what Phoenix would've done with the part (and, what he may eventually do with the superhero roles he continiously flirts with), but Cumberbatch will very likely be an Oscar nominee this year for his performance as Alan Turing in 'The Imitation Game' and his work on 'Sherlock' is second-to-none, so it's not like he's just some pretty boy. Cumberbatch both looks the part and brings some serious acting chops to the Marvel universe. This isn't just fancasting, it's great casting that fans can get behind. Cumberbatch isn't quite the A-list star that Matthew McConaughey is, but for as much as we love McConaughey, Cumberbatch will be a much, much better Doctor Strange.

Plus, let's just imagine a world where Benedict Cumberbatch gets to lineup next to Iron Man and Captain America in the same movie. (If Cumberbatch and Tom Hiddleston ever share the screen in a Marvel movie, Tumblr might just explode.)
Sorry if you dig it. I'm old and cranky and tired of Moleman's Dumb Visage.