'Fantastic Four' comic ending; totally not out of corporate vindictiveness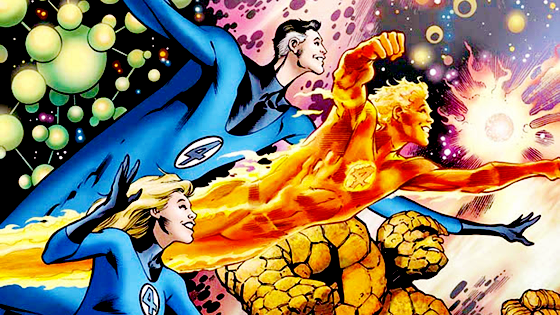 A summer rumor has become an autumn fact. Fantastic Four is getting cancelled, taking the First Family out of the Marvel Universe. The rumor had it that Marvel was doing so in order to malign Fox, who owns the movie rights over them. And while I imagine The Foursome will return (conveniently after the movie push is over), this is forty-four shades of fucking dumb.
Starting with the comic book news, Bleeding Cool found a listing printed by the Hachette Book Group, the distributor of Marvel collections, touting an upcoming collection called Fantastic Four Vol. 4: The End is Fourever. Read for yourself:

THE END IS FOUREVER! Witness the closing act on the First Family of the Marvel Universe! THE INVADERS meet the FANTASTIC FOUR as the hunt for REED RICHARDS and the missing kids of the FUTURE FOUNDATION continues. Meanwhile the mastermind behind everything unveils his ultimate plan. But how does FRANKLIN RICHARDS factor in? And how does this all lead to…The END?! Collecting FANTASTIC FOUR #642-644 and the Triple Sized Final Issue 645!

"Closing act," "The END," "Final issue," these all definitely make it sound like the series is coming to an end. Earlier this summer, Bleeding Cool reported Marvel would be ending the Fantastic Four comic book and had pretty much stopped all merchandising and licensing for the property. It was a curious finding considering a major motion picture was hitting theaters the next year. Many speculated this is Marvel's way to try and submarine the film, which was being made at a rival studio, 20th Century Fox. That didn't make much sense, but something was definitely up – and it seems now it was just an ultimate plan to end the comic book series. (We even reported the guys at Mondo weren't able to doFantastic Four posters). You can read more about the specifics of this series atBleeding Cool or Comic Book Resources.
Dumbdumbdumbdumb. Hickman's Fantastic Four run is my favorite run of all time. And while I can still nuzzle close to those back-issues in moments of loneliness, it saddens me that the First Family ain't going to be around. Until LIEFELD AND LEE DO HEROES RE-RE-BORN: DON'T CALL IT A COMEBACK, CALL IT A TWELVE-PACK, AND THIRTY-FIVE POUCHES. I can hope, right?