Behold! Shalvey & Bellaire's 'Injection' #1 Cover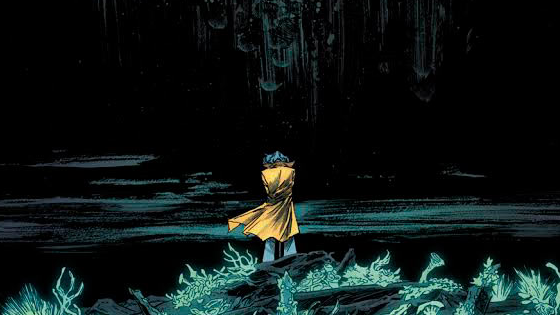 The cover for first issue of the Ellis/Shalvey/Bellaire collaboration Injection has dropped online. And goddamn! It ain't much in the "telling us what this comic is about" department, but it is considerable in the "get pumped for the title with sexy artwork" department. Departments! Say departments again, Caff. Departments.
Full cover and details after the break.
Some of Image Comics' brightest stars were on hand at the Image Panel at DICE (Dublin International Comics Expo), taking place this weekend in Dublin, Ireland. The scheduled lineup included creators Jamie McKelvie, Becky Cloonan, Jordie Bellaire, Declan Shalvey and Mike Norton, all poised to preview their latest projects.

Revealed at DICE today (and exclusively online at CBR) is the cover for "Injection" #1 by Declan Shalvey andJordie Bellaire. "Injection" is the new series illustrated by Shalvey & Bellaire and written by Warren Ellis, with that creative team continuing their collaboration after their critically acclaimed re-launch of Marvel's "Moon Knight" earlier this year.

Image has described "Injection" as a series that explores "how loud and strange the world is becoming, and the sense that it's all bubbling into chaos — a chaos poised to become the Next New Normal — and that we did this to ourselves without thinking for a second about how we were ever going to live inside it."

"I would have found it very hard to do any project after 'Moon Knight' unless it was with Warren," Shalvey said this past July at the Image Expo in San Diego. "I didn't expect it would happen, but I'm delighted."