Monday Morning Commute: Your Favorite Fake Memory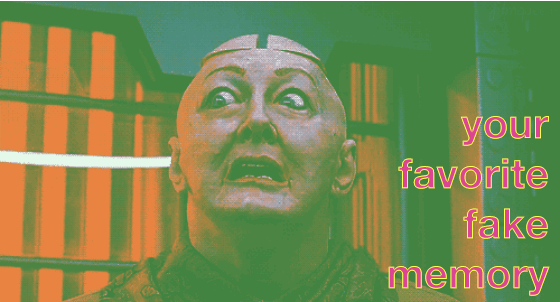 And on the 22 of September 2014, I am writing this column. Monday Morning Commute. High on cough syrup, low on existence, I'm coming to you live from the Space-Ship Omega. Per par for the perpetual course, these are the niceties that are capturing my attention, imagination, and speculation during this week. Serving as a ship to hopefully sail me across the tempestuous work week waves.
—-
Saw Total Recall.
For the first time in like 25 years.
It's so fucking good.
—-
So like it's hockey preseason.
Papa OMEGA and I are going to.
The Bruins' preseason opener.
—-
I'm going to end up.
Seeing the latest Denzel Washington movie.
The Equalizer. I know I suck.
—-
Haven't picked up my comics.
In a fucking month.
Oh fuck my wallet.
Going this week.
—-
Finding time away from classes.
To continue my Lovecraft voyage.
Seriously want a Cthulhu tattoo.
—-
Comics, Bears On Ice Skates, Mythical Monsters, and Three-Breasted Women. That's what is on my mind this week. What about you folks?