'Episode VII' News: Syrio Forel (Miltos Yerolemou) joins the f**king cast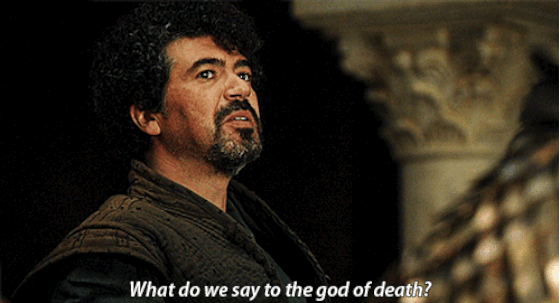 If you watch Game of Thrones and you weren't totally swooning over Syrio Forel — stop fucking lying. J.J. Abrams seems intent on stacking the cast for Episode VII with a bevy of my bitties. And the latest to join the cast is Miltos Yerolemou, who plays the aforementioned awesome swordsman.
If you're good with a sword and appeared on Game of Thrones, apparently there's a fair shot you can make it to a Galaxy Far, Far Away. Months after Thrones star Gwendoline Christie joined the cast of J.J. Abrams' Star Wars Episode VII, she'll be joined by another cast member. Miltos Yerolemou, who played the season one swordsman mentor to Arya Stark, Syrio Forel, has reportedly joined the film in an unknown role. Read more about Miltos Yerolemou Star Wars 7 below.

The BBC broke the news of the late addition to casting, but Lucasfilm declined to comment.

Considering Yerolemou is a accomplished swordsman, everyone is assuming he'll play a character that wields a lightsaber in the highly anticipated sequel. However, that's not a guarantee. We all assume Andy Serkis is playing someone created in performance capture, too, but no one knows for sure. (Same goes for Daisy Ridley as a Solo, Lupita Nyong'o as a Sith, etc. All assumptions.)

The BBC report does say, however, that "his character in Star Wars is not thought to be a major one." That too is a safe assumption considering the film has been shooting for sometime now and recently started back up after a brief hiatus. If he was important in this film, he'd likely have been on set already. Still, a minor role in Episode VII doesn't mean a minor role in Star Wars moving ahead. Among the Star Wars rumors most people take to be true are that minor characters in Episode VII will be major characters in Episodes VIII and even IX. Plus, just because we're hearing about the casting now doesn't mean it just happened.
If this movie is even a fraction as dope as the cast would suggest, I'm going to be goddamn dead in the seat next December.