NBC developing 'CONSTANTINE' TV SERIES with the cruddy DAVID S. GOYER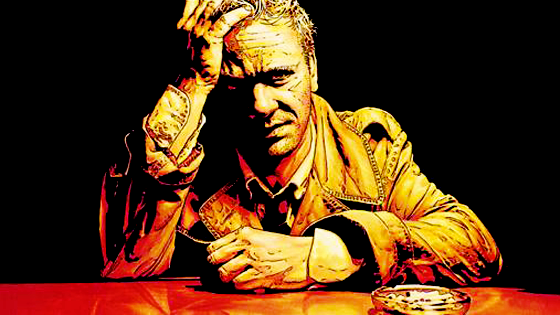 Things that don't excite me: David S. Goyer. Otherwise I'd be pretty jazzed about a Constantine television show. ProvidedhesfuckingBritishjesuschrist. 'Cause you know what? The Garth Ennis run on Hellblazer is some of the finest fucking comic book writing I've ever consumed.
The number of DC universe set shows that are coming to a television screen near you is increasing rapidly these days. The Flash is speedily spinning off of Arrow, Gotham, the Batman show without Batman, was announced yesterday, and now a series based on Hellblazer, the long running Vertigo title featuring the trials of John Constantine, is in development at NBC.

It is written/executive produced by The Mentalist executive producer Daniel Cerone and David S. Goyer, the go-to writer for Warner Bros.' feature DC adaptations. Constantine centers on John Constantine, an enigmatic and irreverent con man-turned-reluctant supernatural detective who is thrust into the role of defending us against dark forces from beyond.

With a high profile writer like Goyer behind the show, it's got a good chance actually making it to screen. And a Constantine show that's actually true to the character (unlike the still very enjoyable movie) would be somewhere between Supernatural and Breaking Bad. A paranormal investigation show where basically everybody is a terrible flawed person and true innocents are rare and just as likely to die as anyone else, i.e., very likely to die. But it's still the second announced series in as many days to be based around one of the DC's universes actually pretty tertiary characters, who, unsurprisingly, are white dudes. The odds of Contantine's canonical bisexuality actually making it to screen are… well, I'm not holding my breath. Still no word, of course, on Amazon, the Young Wonder Woman show that's development was "paused" several months ago.