Official: BRADLEY COOPER voicing ROCKET RACCOON in 'GUARDIANS OF THE GALAXY.'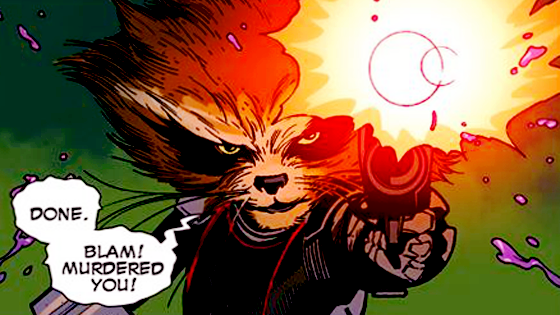 I enjoy Bradley Cooper. His musk. Those eyes. His acting prowess. I also am learning to love Rocket Raccoon. His tail. His intellect. His capacity for murdering baddies. How well will these two entities mesh in Guardians of the Galaxy? I don't know. But I'm eager to find out.
Following earlier reports that he was in talks for the role, Marvel Studios officially announced Friday that Bradley Cooper will voice Rocket Raccoon in the upcoming "Guardians of the Galaxy" film.

The official release is light in details, stating that Cooper has joined the cast and listing some of his credits, which include the "Hangover" trilogy and an Academy Award nomination for last year's "Silver Linings Playbook."

The voice of Rocket Raccoon was one of the final missing pieces of the "Guardians" cast, along with the character's frequent partner, Groot. Vin Diesel confirmed during a "Riddick" press junket interview published this week that he had talked with Marvel about the role, and that it was now "up to his reps" to make it happen.