BOSTON COMICCON 2013: Prepare for the OMEGA-LEVEL ZOMBIEBOMB!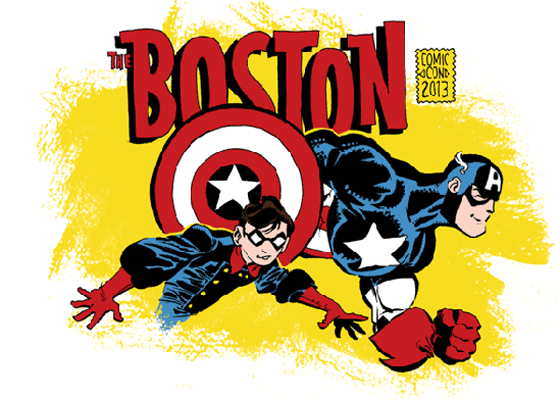 Hello friends of the OMEGA LEVEL. We've been anticipating it for a while, and this weekend we're finally going to get to rock out in a booth at our hometown comic convention. Boom! August 3-4. We've got a few pretty dope things in the work, partnering up with several wonderful lads.
Over at our booth we're going to be slinging mad t-shirts. Dare yourself into buying one of them and being ostracized from friends and family! Naw, they're pretty dope. Or something. Buy one, send my non-existent kids through college. Also at our booth, Allen Drinkwater will be pushing copies of OMNI. This includes the print premiere of his short with the inestimable Steven Walters, OMNI: A Rocket Man.
Speaking of inestimably talented folks, I'd be remiss not to mention our good friend Adam Miller holding it down at the convention. The ZOMBIEBOMB! creator will be there promoting volume two of THE NEW ADVENTURES OF SUPER INGA! by artist and creator Haig Demarjian. Miller provided the cover for the volume which can be peeped over at Fangoria. Delicious. Hop over to table AA643 for their goodness.
Finally and perhaps most exciting, there will be an exclusive debut of an Adam Miller/OMEGA LEVEL t-shirt at our booth. I'm pretty frakin' stoked for the work, and uber gracious that the good lad lent his artwork to our insanity. Miller will be doing a signing at our booth on Saturdaywith times to be announced. This isn't the white noise of self-promotion, it is the sizzling giddiness of getting to collaborate with someone far, far, far more talented than me.
I hope to see you good people, perverts, decadent homosapiens, and innocent passersby there this weekend.