Opinions Vary: THOR IS BETTER THAN THE F**KING FLASH. AND YOU. AND YOU.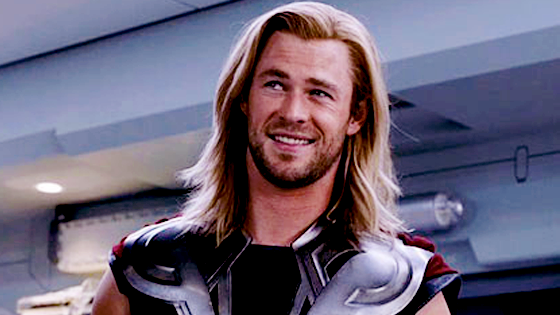 HEY GUYS. CAFF HERE. I WASN'T SUPPOSED TO DO AN OPINIONS VARY THIS WEEK. HOWEVER, EDUARDO PLUTO STUBBED HIS FUCKING TOE AND NOW HE'S IN THE ER. I DON'T WANT TO SPEAK TOO SOON, BUT THEY'RE TALKING AMPUTATION. LISTEN. I WASN'T ANTICIPATING WRITING ANYTHING TODAY. THE FIRST THURSDAY OF EVERY MONTH IS THE SWEAT LODGE FOR ME. I BUMP A BUNCH OF DIET PILLS DOWN WITH THIRTEEN DIET MOUNTAIN DEWS, THEN I COMMUNE WITH NATURE. AND THE OMNIVERSE. AND THE SPIRIT-LORDS. NEEDLESS TO SAY I'M TWEAKING A BIT AT THE MOMENT.
ANYWAYS.
DEVOID OF TIME TO THINK ABOUT THE TOPIC, I'M FALLING BACK ON A SUBJECT I RAISED IN THE LATEST PODCAST. THOR. IN CASE YOU DIDN'T KNOW, THOR IS THE GREATEST OF SUPERHEROES. FAR, FAR BETTER THAN THEM ALL. CERTAINLY FAR BETTER THAN THAT DICKBAG, THE FLASH. BUCKLE UP YOUR BALLS, BOOBS, TAINTS, TITS, AND DICKS. I'M GOING TO EXPLAIN TO YOU WHY.
HIS HAMMER IS HIS COCK
THOR IS PRETTY MUCH AN AWESOME OEDIPAL ALLEGORY. HIS DAD TRIES TO STEAL HIS HAMMER. THIS IS PRETTY MUCH HIS COCK. EVENTUALLY THOR GETS HIS DICK BACK, AND THEN HE GOES AROUND SMASHING THINGS WITH HIS COCK. IF YOU DON'T LIKE SMASHING THINGS WITH YOUR COCK, OR UH, ANNIHILATING THINGS WITH YOUR VAGINA I DON'T KNOW WHAT TO TELL YOU. GET THE FUCK OUT. YOU KNOW THE THING ABOUT DIET PILLS? THEY GIVE YOU THE SHITS. AND IF YOU'RE NOT WILLING TO FINGER PAINT YOUR DIVINATIONS WITH THEM, YOU'RE PRETTY MUCH SHIT OUT OF LUCK.
SHIT! OUT OF LUCK! LOL!
HE'S A FUCKING VIKING GOD
FAR BEYOND YOUR PITHY JUDEO-CHRISTIAN GOD, OR YOUR LIKE, DRUID GODLINGS OR WHATEVER, THE VIKING GODS ARE SUPERIOR. THERE IS AN EASY WAY TO FIGURE OUT WHY THEY'RE THE BEST. THEY HAVE BEARDS, AND THEIR PHALLIC WEAPONS SMITE EVERYTHING IN THEIR PATHS. ADDITIONALLY, THEY ARE ONLY DOWN TO DO SEVERAL OTHER ACTIVITIES. YOU KNOW, ASIDE FROM SMASHING THINGS. THESE OTHER ACTIVITIES INCLUDE ROCKING OUT TO POWER METAL, DRINKING THE FUCKING SHIT OUT OF MEAD, BANGING (THEY BANG EVERYTHING, FUCK YOUR BINARY CONCEPTIONS OF GENDER AND SEXUALITY) HOLES AND HANDS AND SHIT. OH, AND ANNIHILATING FROST GIANTS. SRY LOKI LOL.
HOMEBOY IS TENDER AS SHIT
DON'T LET THOR'S HAMMER-COCK SMASHING DEMEANOR TRICK YOU. MOTHERFUCKER IS SUPER NICE. THIS ONE TIME I WAS TRYING TO BRING IN ALL THE FUCKING GROCERIES. MRS. CAFFEINE POWERED WAS INSIDE, SCOFFING AT MY PATHETIC ATTEMPT AT MASCULINITY. I DROPPED LIKE NINE GALLONS OF SKIM MILK. I FELL TO MY KNEES AND BEGAN WEEPING, UPSET AT BOTH MYSELF AND THE WORLD I LIVE IN. WOULDN'T YOU FUCKING KNOW IT, THOR ZAPPED DOWN. SURFED A FUCKING BOLT OF ELECTRICITY WHILE METALLICA'S "RIDE THE LIGHTNING" BOOMED FROM THE HEAVENS. HE KISSED ME GENTLY UPON THE HEAD, AND REASSURED ME "NOT ALL THOSE WHO WANDER ARE LOST."
THEN HE WAS GONE.
IF I'M BEING HONEST I DON'T KNOW WHAT THE FUCK THAT HAD TO DO WITH ME DROPPING MILK, BUT WHEN A GORGEOUS VIKING GOD KISSES YOU, YOU JUST FUCKING ACCEPT IT.
DID I MENTION IT INDUCED AN INSTANT ORGASM IN ME? I LITERALLY SHOT A LIGHTNING-BOLT LOAD OUT OF MY COCK, AND IT SNIPED A NEARBY PIGEON. I'M FUCKING SERIOUS.
ARMOR IS WAY COOLER THAN A FUCKING LEOTARD
FUCK THE FLASH'S DUMB OUTFIT. DUMB ASS LEOTARD THAT FLIES OUT OF HIS FUCKING RING. FUCK IT! WHILE WE'RE AT IT, FUCK ALL THAT HEINOUS CHITIN ARMOR THAT THEM FUCKING NEW 52 DC CHARACTERS WEAR. JIM LEE'S PENCILS ARE THE LINES THROUGH WHICH THE CONJURING SHALL BE SUMMONED. I'M SERIOUS. CHECK IT OUT. IF YOU LINE UP ALL THE LINES OF THE CHITIN ARMOR FROM JUSTICE LEAGUE #1, YOU WILL CLEARLY SEE A SUMMONING CIRCLE.
FUCK YOU WAIT WHY IS THE KEYBOARD AN EEL? IS THIS, IS THIS THE RECKONING?
ANYWAYS — YEAH. THOR'S GOT GORGEOUS ARMOR. IT SHINES IN THE MOONLIGHT, WHILE HE RIDES ME LIKE A STEED. PRETTY AWESOME. YOU WOULDN'T KNOW IT, BUT I FIND THOR MANAGEABLE UPON MY BACK, AS WE GALLOP THROUGH THE LOCAL WOODS. I DON'T KNOW IF HE CAN CONTROL HIS OWN MASS, OR IF I AM SO STOKED ON THOR JUICE THAT I AM TEMPORARILY GRANTED EXTRA STRENGTH.
THERE ARE LIKE NINE FLASHES, THEY ALL SUCK
LET'S BE CLEAR. RUNNING FAST IS NOT AWESOME. I CAN RUN FAST. ONE TIME I RAN SO FAST MY MOM GAVE UP CHASING AFTER ME, AND LET ME RUN AROUND THE NEIGHBORHOOD COVERED IN PEANUT BUTTER. HIGH SCHOOL WAS ROUGH, ESPECIALLY BEFORE THE MEDICATION. I'M FINE NOW, THOUGH. FUCKING FINE. YOU KNOW WHAT I CAN'T DO? I CAN'T FUCKING SWING A GIANT HAMMER THAT IS ONLY GRANTED TO THOSE WORTHY. I CAN'T SURF ON LIGHTNING. I CAN'T KICK FROST GIANTS IN THE HEAD AND THEN FUCK THE WOUNDS.
YOU KNOW WHY? BECAUSE THOSE ARE INCREDIBLE FEATS, ONLY PERFORMABLE BY VIKING GODS WHO STRIDE UPON THE HEAVENS.
I HAVE TO GO BACK TO THE SWEAT LODGE
MERRY CHRISTMAS AND FUCK YOU ALL. IF YOU FOLLOW MY TRAIN OF THOUGHT, YOU WILL ARRIVE AT THE INESCAPABLE TRUTH. THERE IS THOR, THEN THERE IS THE REST OF US. THEN THERE IS THE FLASH.