DEL TORO'S MARVEL DEBUT will be in 'THOR: THE DARK WORLD.'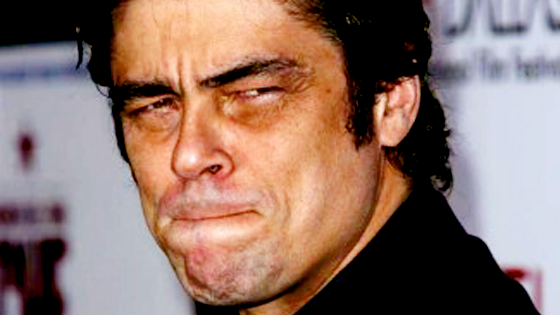 Benny Del Toro ain't just appearing in Guardians of the Galaxy. Which I suppose is sort of obvious, because didn't he sign like a thirty-seven picture deal? Regardless of the obviousness, it is now known that Del Toro is going to be debuting not in GotG, but rather Thor: The Brooding World.
Okay Marvel dorks, even though things always spoiled forever in advance, cover your ears and eyes if you really don't want to know anything that might compromise your innocence about "Thor: The Dark World" or "Guardians Of The Galaxy." Potential spoilers are ahead. For everyone else, read on and see how things are shaping up for a couple of the major Marvel movies on the way.

When Benicio Del Toro was officially cast in "Guardians Of The Galaxy" his role was kept under wraps, though it's pretty much largely believed he'll be playing The Collector. The character is a near immortal being that travels the universe, gathering up important artifacts across the galaxy to save them from annihilation. Basically, it allows the character to appear with good reason in any Marvel movie. And it would appear Del Toro is making his first Marvel world debut in "Thor: The Dark World."

Speaking with Flicks & The City (via Next Movie), actor Clive Russell, who plays Tyr in the "Thor" sequel, revealed he had shot a scene with Del Toro. "I worked with Benicio Del Toro on a scene in which he was meant to be quite angry, and sitting fifteen feet away I couldn't hear a word he was saying. But you look on at the screen, and it's absolutely there," he said. So, will it be a cameo in the actual movie? The end credits tease? We'll know in a few months.
Any thoughts on what capacity the good sir shall be serving in when he smashes his way onto the screen in Thor 2? I'll admit that I know pretty much nothing about this Collector cat.