'FAST & FURIOUS 6' FASTEST (NOS POWERED?) MEMORIAL DAY WEEKEND EVER.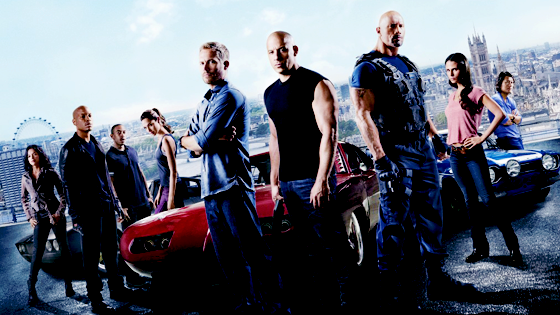 Fast & Furious 6 has suffered the glory of having the biggest Memorial Day weekend opening ever. Ever! Just think about that. Me? I'm fucking fine with it. In fact, I hope people read the news and begin uncontrollably vomiting all over themselves. I caught the film last night. Great fun. There was a time when the franchise took itself seriously, but with this latest installment it is clear they have lost their mind. Shitting on physics, bro-dude posturing everywhere. Gorgeous action sequences. Frankly, it's everything I want in a popcorn flick. However, I may have lost my mind.
It was touted as one of the biggest box office match-ups of the year, but now that the dust has settled, it wasn't even close. "Fast And Furious 6" more than doubled the weekend take of closest competitor "The Hangover Part III" in a showdown between two sequels we never expected to happen four years ago, whenUniversal reluctantly re-assembled the pieces for "Fast And Furious" and Warner Bros. gave us the first "Hangover." For one, success in perpetuity: an immediate sequel to "Fast And Furious 6" is already slated for next summer. But put down your bottles and cans, boys and girls – "The Hangover" ends here. With this weekend, Vin Diesel and the boys might be looking at a three-day global total close to $270 million.

"The Fast And The Furious" was never thought to be a potential mega-hit, released as aggressive summer counterprogramming in 2001. Meant to be a flashy expose of underground street racing, it stunned box office prognosticators with $144 million in domestic ticket sales. A weaker, more expensive sequel followed ($127 million for "2 Fast 2 Furious"), leading all involved to depart, the keys handed to director Justin Lin for "The Fast And The Furious: Tokyo Drift." And even though that star-less spinoff only brought in $62 million, it revealed enough of Lin's chops, and retained enough fans, that a back-to-basics approach was viable. Enter the $70 million opening weekend for "Fast And Furious," the $86 million taken during the first three days by amped-up follow-up "Fast Five," and now, a part six that may just pocket $120 million over its first four days of release.