ARNOLD SCHWARZENEGGER in talks for 'TOXIC AVENGER' REMAKE. Career swoon ++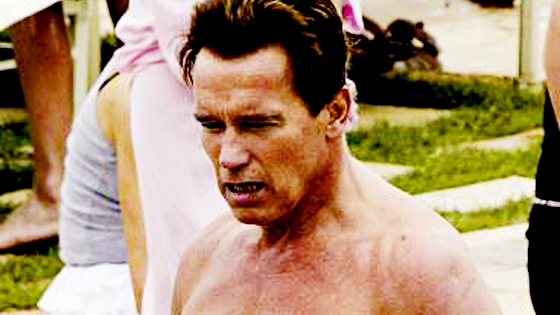 Arnie Schwarz is in talks for a major role in the Toxic Avenger remake, though it ain't for the titular one. Bummer. Homeboy looks particularly monstrous and melty since his return to the big screen.I would have loved to see him parlay that into a role as the toxic freakshow.
Arnold Schwarzenegger's return to the big screen hasn't exactly caught the public imagination so far. As a result, it looks like he's getting weird. The actor is now in talks to play a major role in a remake of The Toxic Avenger — but he won't be the title character. No, don't close the browser tab just yet; there might yet be something good in this deal.

We've known that Steve Pink (Hot Tub Time Machine) is set to write and direct, and that Akiva Goldsman (I Am Legend, Constantine, Winter's Tale) is producing. The film is "loosely based" on Lloyd Kaufman's super-weird original film, in which a 96-pound weakling becomes a disfigured but powerful "superhero" after being immersed in toxic waste.

A press release lets us know just what Schwarzenegger will do in the film:

Schwarzenegger would play "the Exterminator," a former black ops agent, who trains Toxie to use his powers for good. Together they take on the lurking menace created by the polluters, and the polluters themselves.