JACK BAUER AND '24' RETURNING TO FOX. Torture Porn Addicts Moan.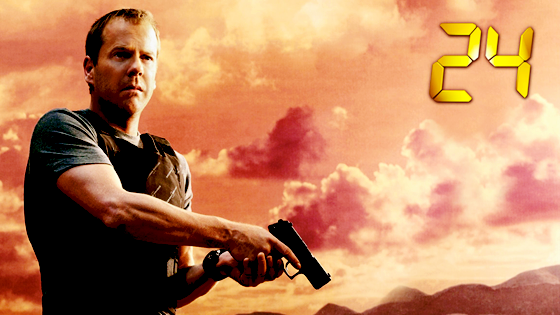 I didn't see this coming. It looks like everyone's favorite utilitarian torture export and post 9/11 wunder-hero is returning to television. Kiefer Sutherland will be dusting off the heavy artillery and reprising his role as Jack Bauer next year, as 24 returns for a twelve-episode journey.
Jack Bauer will officially live another day. The counter-terrorism superhero who worked his way through eight seasons of 24-hour madness before the series ended in 2010 will return in May 2014. The new show is a 12-hour limited event called 24: Live Another Day. Kiefer Sutherland has officially signed on to return to the role, which will follow the same 24-hour format of the original series, but condensed to 12 hours, with uneventful hours skipped.

The news was officially announced on a conference call with Fox entertainment chairman Kevin Reilly, on the occasion of the network's upfront. "[It's] 24 compressed over 12 weeks," said Reilly. "It will go chronologically over the day, but it will skip hours. It will be dictated by the plot."

Don't expect this to lead into a movie, however. Reilly said this event is in lieu of the planned movie that could never quite get off the ground. TV Line summarized his quote on the topic.

[The producers realized that] 24 compressed into two hours is not 24," said Reilly. The limited series conceit "is the perfect format" because it's essentially the original 24 minus 12 hours of filler. "The spine of the original 24 episodes was about 12 hours," Reilly pointed out. "Those were when the big events occurred, and then there were little events and connective tissue in between. So [we're] taking the best 12 [of the 24].
How do you folks feel about this?