Amazon rolls out KINDLE COMIC CREATOR. Make them funnies into Kindle books.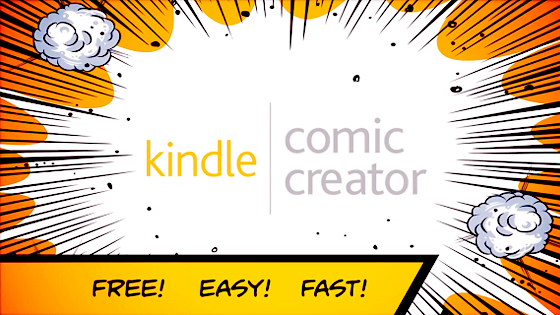 Another avenue has opened up for independent funny book mind-makers. (What?) Kindle has rolled out their Comic Creator, which allows people to convert their comic books into Kindle-format electronic somethings. Like all things given to us by The Man, you have to share a bit of the profit. But it's got to be good for getting your name out there, I assume?
As we noted this morning in Comics A.M., Amazon has quietly rolled out Kindle Comic Creator, a free tool that allows creators and publishers to transform their comics into Kindle books. A video on the company's website lays out the pretty simple process, using Thom Zahler's Love and Capes as an example.

KC2, as the cool kids say, allows for the easy creation of guided navigation, page turns and double-page spreads, and can import single- or double-page images in a variety of formats (PDF, JPG, etc.). The tool also detects the panels, and will recommend an order that will best guide readers through the story. (The full user guide can be found here.)

Once finished, creators can upload their comics to the Kindle Store where, as ROBOT 6 contributor Brigid Alverson spells out on Good E-Reader, they can set their own price and then choose from two royalty plans: 35 percent of the list price on each book sold, or 70 percent of the actual sale price. "The catch with the 70% royalty is that Amazon can reduce the selling price to match a competitor's price for an e-book or print book, or to match their own price for a print book," she writes.