ROBERT DOWNEY JR. teases leaving 'IRON MAN' in three years. Flaccid Repulsor Ray.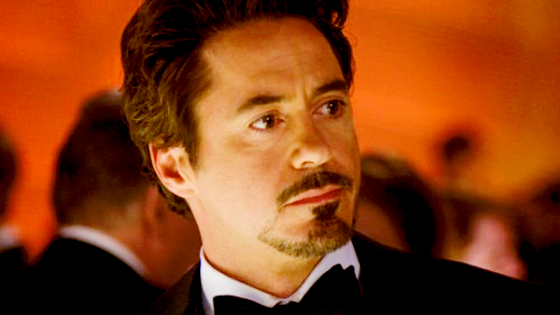 Robert Downey Jr.is a large part of why the Marvel movie universe has become the Marvel movie universe. So what becomes of that Universe when he leaves? Someday, we're going to find out. The salient question is when that day shall come. In a recent GQ profile, Homeboy Jr. hints that he may only have three more years left in the superhero game.
In a new interview with GQ magazine, the actor said he's had a ton of fun playing Iron Man and hasn't decided anything for sure, but suggests about three more years is as far as he can go with the role, at least physically. After that, he'd like to direct and star in a Halloween-set thriller. Read the quotes below.

All the below quotes come from this GQ profile, with a hat tip to The Hollywood Reporter.

Here's a small excerpt from the really fantastic profile:

Downey knows that no ball can bounce forever like his has in recent years. "This period of time, this shall pass," he says. "Fortunately I've been around the block enough—I'm not ill-prepared. And I love change. I love it when a lightning bolt hits the genny and you're down for two hours on the set. Now, this isn't a lightning strike, this is like the warning of a gathering storm."

When I ask him what the gathering storm is in this case, he answers by telling me about the injury he sustained on the Iron Man 3 set in North Carolina that shut down production for several weeks. He was doing the kind of wire jump he's done hundreds of times over the past few years, and he blew his ankle out.

"It got me thinking about how big the message from your cosmic sponsor needs to be before you pick it up. How many genre movies can I do? How many follow-ups to a successful follow-up are actually fun? Because, as quiet as it's kept, I come from a family of very innovative writers and directors and actors and artists, and the circle of friends they were in were the people I heard having pun-offs playing poker at two in the morning, and it was just the most comforting aspect of my childhood. So there's this kind of legacy of souls from what I consider to be a very particular time in entertainment, and I'm sensing a return to that—it's what me and the missus are doing next. It's not unlike: I heard Brady signed on for three more years with New England, and then he's done being a QB, because he'll be 40. I'm 47, and I'll be 50."

So that's the line in your head at the moment?

"Yeah, roughly."

So what stops at 50? Superheroes?

"I don't know. I don't know. Right now I don't have a contract to do anything, and I did for the last five years."

In the article, Downey also admits he was paid around $50 million for his work in The Avengers. You'd imagine that would be a difficult thing to move away from. When we spoke to Downey a few months back, he admitted money was a consideration. "Me, the agents and the lawyers are having a bit of a ball right now," he said. However, with this new three year window in play, that's doesn't sound like the issue. He's more concerned about his health and doing new, exciting things professionally.
What do you think they should do if he taps out? Kill him? For a while now, I've begun to consider Anthony Stark as the Marvel equivalent of James Bond. Inherent in that comparison is the idea that they will – unfortunately, sadly, whatever – just keep recasting him every decade or so. (Though I suppose Bruce Wayne comparisons are apt as well.) I'm fine with that notion. Again, what about you peoples?