'WOLVERINE: THE ADAMANTIUM EDITION' is huge, contains some sh*t not worth reading.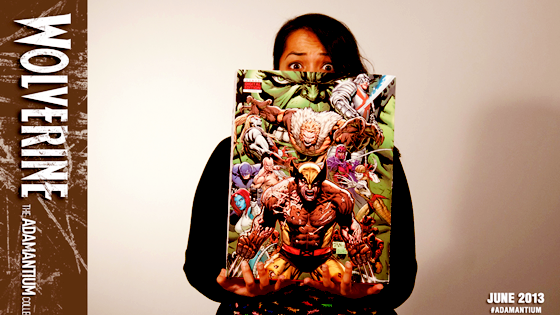 A couple of days ago, I was wondering just how proud Marvel was of their terrible origin story, and whether they were going to cling to it. Today, I received my answer in a roundabout way. The company is releasing Wolverine: The Adamantium Collection. Headlining that pig is the origin story in question, thereby assuring that I never buy this bloated tome. Should you have (too much) money to spare and lack the sort of irrational, brain-frying madness that inhabits me, there is some good shit within the beast.
In case his appearance in a half-dozen monthly titles and the upcoming films weren't enough for die-hard fans, there's always that massive Wolverine: The Adamantium Collection hardcover Marvel announced in December. Just how massive? Feast your eyes on the first images of the book, and pity poor editor Sana Amanat (above).

Weighing in at a whopping 16 pounds, the foot-tall collection is big enough to kill a fully grown man or, when stood open, to serve as shelter for a child. It apparently marks the debut of the "all-new Mighty Marvel Format," which suggests completists may want to invest now in larger, reinforced shelves. Preferably, adamantium.

Priced at $200, the 772-page edition collects Wolverine: Origin by Paul Jenkins and Adam Kubert, Wolverine: Weapon X by Barry Windsor Smith, Wolverine by Chris Claremont and Frank Miller, Wolverine: Not Dead Yet by Warren Ellis and Leinil Yu, Wolverine & The X-Men by Jason Aaron and Chris Bachalo, and single-issue stories by the likes of Dave Cockrum, Larry Hama, Jim Lee, Mark Millar and Kaare Andrews. Plus, there's the cover by Billy Tan and the slipcase by Gabriele Dell'Otto.

And in case your bony arms can't lift the Wolverine: The Adamantium Collection when it arrives in June, it includes a code for a free digital copy.