Nvidia reveals 'PROJECT SHIELD', an Android handheld gaming platform.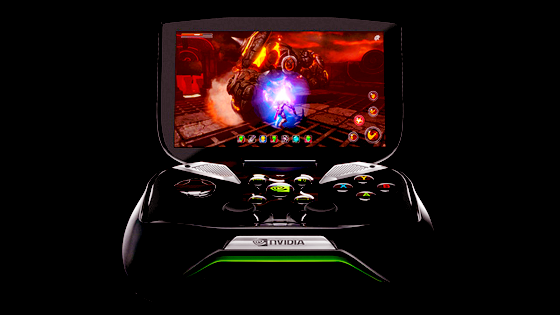 Nvidia has thrown their chips into the handheld gaming market with Project Shield. Pretty extreme name, man! If you want to get people to take your shit seriously, pop the word "Project" before it. I don't have any use for handheld consoles in general, so Project ATTAX!!! doesn't do much for me. I mean sure it seems neat that it has a huge unwieldy controller. I could stuff it into my jeans and quietly imagine it looks like I have two dong-tips. Wait. Now that you mention it, this sounds pretty awesome.
Graphics powerhouse Nvidia is entering the portable gaming market with Project Shield, an Android handheld fitted with the company's newly unveiled quad-core Tegra 4 mobile processor. Shield, showcased by Nvidia CEO Jen-Hsun Huang at this year's CES, resembles a PS3 or Xbox 360 twin-stick controller but attached to a flip-top 5-inch 'retinal display' multitouch screen with 1280×720 HD resolution at 294 dpi. The Tegra 4 chip it contains, which Nvidia claims is the world's fastest mobile processor, offers effectively six times greater visual output than its Tegra 3 predecessor, as found in Microsoft Surface tablets. Nvidia tells our friends at Engadget that the device is expected to ship in Q2 of this year. One crucial factor which remains undisclosed is the price.

Shield also has 38 watt hours of batteries, which translates into 5 to 10 hours of gameplay or 24 hours of HD video, and a bass reflex audio system with a greater signal-to-noise ratio than the iPhone 5. In addition to the standard audio jack, Shield has a microSD slot, a micro USB port, and an HDMI port that Huang demonstrated with an LG 4K resolution HDTV. Shield's 'console-grade' analog sticks are joined by a d-pad and a standard quartet of buttons, as well as triggers and bumpers.

Huang also demonstrated a few games from Nvidia's Tegrazone store being played on the device, followed by a brief run of mega-mech battling in Hawken. Next, Huang detailed how Shield can wirelessly stream from a PC across a local network to Shield, using this to playNeed for Speed: Most Wanted and Assassin's Creed 3 on the handheld. As Engadgetreports, there was perceivably very little lag. The demo also showed Shield accessing Steam on the PC, with Huang underling the ease with which Big Picture Mode can be used via Shield to bring Steam games to HDTVs.