RZA follows-up directorial debut by adapting Grant Morrison's "Happy!', this is rad.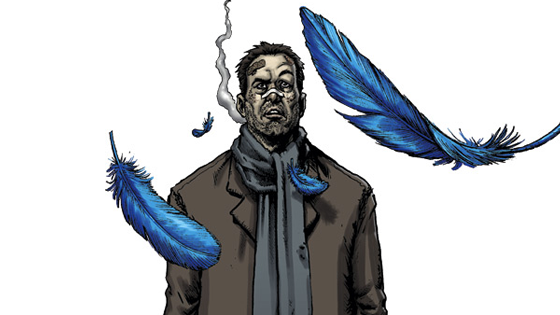 What a weird and welcome development coming down the pipe. The RZA is following-up his first stab at directing by adapting Grant Morrison and Darick Robertson's new comic book, Happy!. While I haven't read the fucking comic book yet, having not gotten to the shelves recently, I'm like totally intrigued. Totally.
The big-time directorial debut of Wu-Tang Clan founder RZA, The Man With the Iron Fists, isn't out yet, but RZA is setting up a new feature. And while his kung-fu film seems like a weird piece if work, it might not even hold a candle to this one. RZA's second film could end up being Happy!, based on the new comic series by Grant Morrison and artist Darick Robertson.

The comic features "a young girl's imaginary, magical, feathery blue horse and the disgraced hitman who's working with it on trying to save the girl from a pedophiliac Santa Claus," with Jersey criminal characters named after My Chemical Romance band members and a tone that Morrison calls "kind of malignantly sweary."

So that sounds like it might be awesome, and will certainly be a spectacle.

THR says that Morrison will script as the project goes through development, with hopes to eventually set it up with a studio or significant independent financier.

The trade explains that the story follows "Nick Sax, a scummy corrupt ex-cop and hitman. After a hit goes bad and Sax is left gravely injured, he is suddenly able to see Happy, a cheerful little blue horse who won't give in to adversity, no matter what unpleasant obstacles come in the way. Days before Christmas, Sax teams up with the saccharine horse to the save the life of a troubled kid and maybe find redemption amid the squalor of his city."

Unlike much of his other recent work, Morrison did Happy! for Image, and so he's got a lot more control over the property than might otherwise be the case. And if The Man With the Iron Fists turns out well, he'll have a good partner in RZA, and possibly the sympathetic interest of Russell Crowe and Eli Roth as well.