Astronauts fix the space station with a TOOTHBRUSH. Yeah, science! Or something.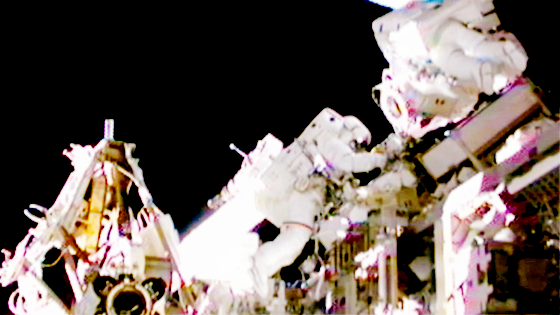 Sometimes you just need to rock a toothbrush. Lost your sex toy? Toothbrush. Smelly teeth? Toothbrush. Need to fix a space station? Toothbrush.
When NASA's Sunita Williams and Japanese astronaut Akihiko Hoshide couldn't seem to get a bolt attached to the outside of the space station, ground crews came up with a clever solution: Fix the problem with a toothbrush. At Space.com, Denise Chow explains the details:

On Aug. 30, Williams and Hoshide completed a marathon spacewalk that lasted more than 8 hours, but the astronauts were thwarted by a stubborn bolt and were unable to finish connecting the so-called main bus switching unit (MBSU). The stuck bolt forced NASA to add [yesterday's] extra spacewalk.

But, following last week's unsuccessful attempt, flight controllers, engineers and veteran spacewalkers worked around the clock at NASA's Johnson Space Center in Houston to devise a solution to the problem. Using only the supplies available on the space station, the teams came up with creative new tools for Williams and Hoshide to use to install the MBSU.

One was a modified toothbrush that was used to lubricate the inside of the bolt's housing after debris and metal shavings from inside had been removed. Another improvised instrument included a cleaning tool that had been made from wires that were bent back to form a brush, explained Kieth Johnson, lead spacewalk director at the Johnson Space Center.