VALVE And ADULT SWIM Teaming Up For…Stuff. Probably Amusing Stuff.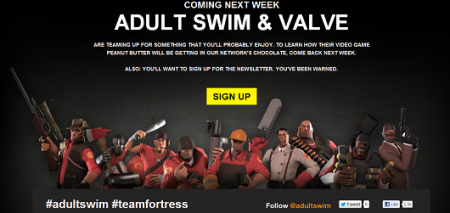 Adult Swim and Valve! It's a union forged in places where unions I don't expect are forged. Whatever could they be dropping? A Team Fortress 2 short? Something? Such?
Valve and Adult Swim have come together in a glorious union of witticism, snark andsomething else that they're not telling us until next week. Adult Swim has a promo pagedecked out in Team Fortress 2 images and hashtags, and it promises this partnership will beget "something that you'll probably enjoy."

The surprise is "coming next week," with more information to be disseminated in the newsletter, apparently. Clicking "Sign Up" leads to a registration page with this image ofTF2's Pyro, who is due for a "Meet the" feature from Valve any time now.

Valve is running a summer ARG at the moment that may be connected to this Adult Swim deal, or it might just be another thing that Valve may never finish.
Thoughts? Guesses? Pumped?