'THE AVENGERS' Drops On DVD/Blu-Ray On September 25th With Alternate Ending & More Loot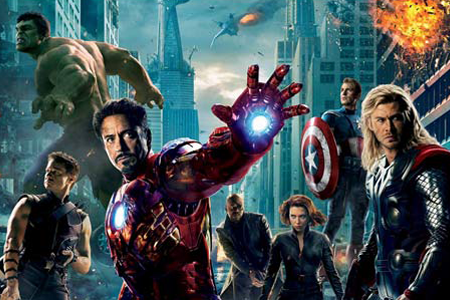 Marvel, and Disney aren't taking their Avengers  success sitting down. Even though the flick is still demolishing box office records, deets regarding the eventual DVD and Blu-Ray disc have come out, giving its finger to all our fanboy and fangirl wallets.
Not content with  holding 25 box office records to date,  Marvel  and  Joss Whedon's superhero team-up flick "The Avengers" looks to continue to dominate the top ten this weekend, beating competitors "Battleship," "Dark Shadows" and "The Dictator" remorselessly, as though they were CGI recreations of a RADA-trained actor playing a Norse god. How far it goes is a good question: crossing the two-billion dollar mark and overtaking "Titanic" could be a distinct possibility, but we suspect "Avatar" might be out of reach — that film had months to play with little competition, while blockbuster season starts to kick up a gear in the next few weeks.

But what's clear is that Marvel, and distributors  Disney, are already starting to look beyond theatrical and towards further revenue streams, as the company have announced (via  JoBlo) that the film will be arriving on home video formats in only a little over four months, on September 25th, as well as giving up the details on what looks to be the extras package.

The DVD, as tends to be the case these days, is relatively sparse, with only a commentary by director Joss Whedon (which is admittedly sure to be a treat) and a featurette on 'Assembling The Ultimate Team.' But those who've upgraded to HD get a whole host more from either a two disc combo Blu-Ray set, or a four-disc 3D blu-ray set with all of the above, plus a new Marvel short called "Item 47," something called a 'Second Screen' — presumably some kind of picture-in-picture deal, a gag reel, and some extensive deleted scenes. Whether it adds up to the 30 minutes  promised by Whedon  isn't clear yet, but there seems to be plenty here, including an alternate opening and ending featuring Maria Hill (Cobie Smulders), an extended version of the scene between  Mark Ruffalo  and  Harry Dean Stanton  (yes!), and something called an Extended Viaduct Fight. Where was the viaduct fight? Did we forget that completely? Or is this a whole new excised action sequence?
Can't wait! Won't wait. Okay. I'll wait.