WIZARD Teams Up With 'THE SITUATION' For Comic And Convention Appearances. Ah, F**k You.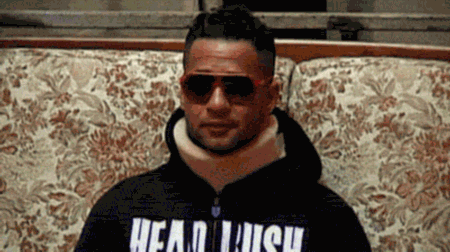 Piss on my childhood and call it a water sports party! My lord. I know that Wizard is having a rough go of it, but this smacks of tanning beds and serious  desperation. The company that once governed me through many a sweaty summer vacations with their articles and pricing guides are thudding at the floor of the well.
In  the words  of Michael Sorrentino himself, "Super hero Sitch coming soon!!" Thanks to a new deal with Wizard World Inc., "The Situation" is going to star in his own superhero comic. The deal not only taps the fist-pumping, GTL-ing, star dancing TV personality of  Jersey Shore  fame, but also his brothers Marc and Frank, sister Melissa and mother Linda. Full plot details are still unclear as no official creative teams have been announced, but Wizard's official press release says that the comic will be written and drawn by some of the industry's "leading artists and writers." Whatever storyline gets worked out (we're assuming "The Situation" will have powers beyond showing people his abs), Wizard World show attendees can expect to see a whole slew of Sorrentino family members making appearances at upcoming shows. Could this inspire  Super Situation cosplay?

From  Wizard World:

"MPS Entertainment and I are thrilled and excited about our new business relationship with Wizard World. I grew up reading comic books and now I get a chance to star in my own. I can't wait for everyone to see what we are working on," said Mike "The Situation" Sorrentino.

"Wizard World is excited to partner with one of pop culture's greatest stars. Mike 'The Situation' and his family will broaden our relationships with celebrities to new areas that leverage our access to the media, the fans, and especially our ability to bring comic book characters to life," said John Macaluso, CEO, Wizard World.

The new comic marks Wizard World's first foray into (presumably) print publishing since  Wizard  and  ToyFare  were canceled in 2011  (Full disclosure: I was a freelance contributor to Wizard from 2009-2011). No word on pricing or whether the comic will include a digital component.