James Stokoe's 'GODZILLA: HALF-CENTURY WAR' Announced By IDW. I Can't F**king Wait.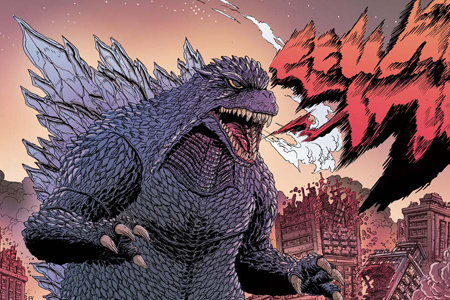 Here at OL we're pretty, pretty, pretty fucking jazzed on James Stokoe. The dude's comic Orc Stain  is  unadulterated talent ripping through the veins and capsules of the comic page. The level of energy and detail on every page literally makes my taint sing. I'm serious. My taint opens up, and it sings. This weekend IDW announced that Stokoe would be writing and drawing Godzilla: Half-Century War  for them. That taint that sings? It wailed.
Details and previews after the jump.
"What's great about the movies, is there is no hard continuity," said editor Bobby Curnow. "The Godzilla movies of the '60s are not necessarily part of the history of Godzilla in the '90s. So the films themselves support this type of approach. No difficult history to get bogged down in. Just jump in and enjoy the ride."

Stokoe came to Curnow's attention both through both his work on  Orc Stain  and a Godzilla fan comic by the artist. "When I first started working on Godzilla last year, I was scoping out artists," said Curnow. "A basic google search of "Godzilla art" brought me to a four or five page Godzilla comic that James did for fun called  World War G.  I was sort of flabbergasted that a creator I was such a fan of just happened to be a huge Godzilla fan. We started talking and it was clear that he had a full story dancing around in his mind."

Each issue will take place in a different decade, and Curnow says fans can expect easter eggs and nods to Godzilla films tailored to each time period. "You'll see some hippies that are very into Mothra as the book goes on… There will be plenty of fun stuff for Godzilla fans, but at the same time it will be unique and accessible to the average reader."

Stokoe, who cites  Mothra vs. Godzilla  as the very first movie he remembers watching, calls himself a huge, life-long Godzilla fan:

It's one of those things that's almost impossible to peg down why I like it, just because it's always been around me. I've done quite a few on and off Godzilla fan comics over the years, but getting the chance to work on an official Toho sanctioned book has pretty much been a dream come true. I think Bobby and IDW are some secret arm of the Make A Wish Foundation, here to treat malnourished comic artists to their lifelong goals.

There's a lot of little nods to Godzilla and kaiju film tropes I'm trying to cram into the book; some are just visual (drills on everything!), some are part of the story. The second issue even has the first test firing of the Maser, which anybody who has seen a Godzilla movie will know barely ever works as intended. I got completely stumped trying to figure out what the sound effect for Godzilla's trademark roar would be, so I looked up what it looked like run through an oscilloscope and just traced over that with some vague lettering. Godzilla has almost 60 years worth of movies, in different eras and with some radically different tones, so it's great to pick through and try to figure out how to make those ideas work in a comic book.