Marvel Announces 'Avengers Assemble', Making It The 933rd Avengers Title.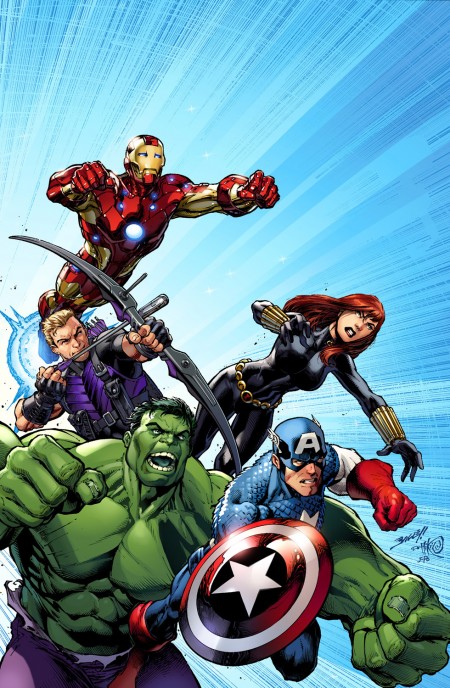 If there's one thing I need absolutely no more of, it's a Brian Michael Bendis-powered Avengers title. Well with the movie coming out, it's sour grapes and tough rocks in my sandwich. Lots of rocks. Making all too much corporate sense, Marvel has announced BMB will be heading up a new title in some wonderful cross-medium synergy.
That line up will also take center stage in the Marvel Universe this March when they and several other unrevealed characters become the stars of the all-new ongoing "Avengers Assemble" series by the legendary team that created Marvel's "Ultimate Spider-Man" series, writer Brian Michael Bendis and artist Mark Bagley. CBR News spoke with the creators about the project, which was announced by Marvel today at their "Cup O' Joe" panel at  New York Comic Con.

Bendis has been the guiding force behind the Avengers franchise for the past seven years and  currently writes both the "Avengers" and "New Avengers"  titles. Several months ago when Marvel began working on a new series that would capitalize on the release of the Avengers feature film, he was naturally at the top of their list.

"Marvel came to me and said, 'We're really happy with the plans we have, but the movie is coming and we we're wondering if you could come up with something that featured the cast of the movie in a way that felt organic to you?'" Bendis told CBR News. "They made it clear to me that if I didn't have something it was okay and they would approach other people, but I did have something. And that was also right around the time that Bagley made it clear that he'd like a crack at the Avengers. I was approached about this book literally a week after he told me that, so I quickly said yes."

Editor Tom Brevoort then approached Bagley about the project. "Basically, Tom called me up and asked, 'How about you and Brian doing an Avengers book?' He laid things out for me and it's exactly the assignment I've been wanting to do for years," Mark Bagley said. "I made it pretty clear that I was dying to work on the Avengers right around the time I left Marvel to do some work with DC, and I loved working with Brian. He's just been killing on his Avengers work. Of the comics I buy, Brian's Avengers work is some of my favorite. I'd be reading those books going, 'Damn! I wish I could be drawing this.' So they figured we'd make a really good team, have a book that would come out on time, and cause a lot of excitement."
Does anyone here care? At all? And if so — why?