DC's 'Justice League #1' Is The Top-Selling Comic Of 2011. Duh.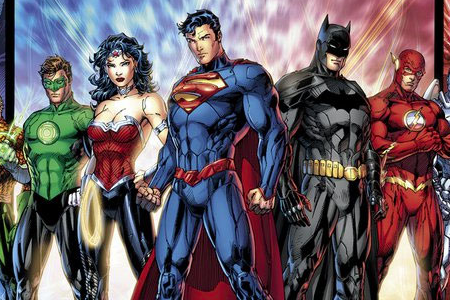 It doesn't surprise me in the least with all the hype behind the DC 'New 52' and Justice League #1 and its formerly-amazing creative team of Geoff Blah Johns and Jim Tired Lee that the title is selling well. I don't know if I saw it selling this much though.
Diamond Comics Distributors  confirmed Monday that  DC Comics'  Justice League  #1 by Geoff Johns and Jim Lee & Scott Williams sold out of its massive initial print run as well as a second and is presently in a third printing. More than  200,000 copies  have been sold (not including digital sales), making  Justice League  #1 the  best-selling comic book of 2011  so far.

There's more good news for DC, as several other titles from its New 52 initiative have sold out of print runs exceeding 100,000 copies, and all 13 of last week's new DC comics are going back to press.

According to DC Comics'  The Source blog, the new first issues of  Action Comics, Batgirl, Batman, Batman And Robin, Batman: The Dark Knight, Detective Comics, The Flash, Green Lantern, Justice League  and  Superman  were all given print runs exceeding 100,000 copies, with  Justice League  and  Action Comics  going higher than 200,000 each (including the second printing of  Action). While it remains to be seen whether all of them will sell out, some already have, like  Batman And Robin  #1 and  Green Lantern  #1, both on sale this week. Also coming this week are the first issues of  Batwoman, Deathstroke, Demon Knights, Frankenstein, Agent of S.H.A.D.E., Grifter, Legion Lost, Mister Terrific, Red Lanterns, Resurrection Man, Suicide Squad  and  Superboy, whose initial print runs are not known but have already sold out at the distributor level and are going back to press.

With respect to digital sales, ComicsAlliance  reported last week  on the ascendence of comiXology's Comics in the iPad app sales charts during the first week of DC's New 52, when it peaked at #2. The DC Comics app, also developed by comiXology, reached the #4 position in the same week. These are strong indicators of success, but the publisher is presently refusing to disclose digital sales figures. DC's Executive VP of Sales, Marketing and Business Development John Rood was asked about digital sales by  Comic Book Resources'  Kiel Phegley. His response is as follows:

We can't provide specific numbers. I'll tell you were delighted by the digital sales, but I can't say that they've exceeded expectations in a way that the physical sales have exceeded our forecast and expectations. In the "nice problem to have" department, we've got both media clicking in a way that can only tell us that this is by our design [digital] is working as an additive media and not a replacement one.
I can't help but be bitter when comics like Xombi, Northlanders, and Thor: The Mighty Avenger are axed while this pile of blase bullshit sells so much. Whatever. Hopefully it'll help the medium as a whole.