Friday Brew Review – Life and Limb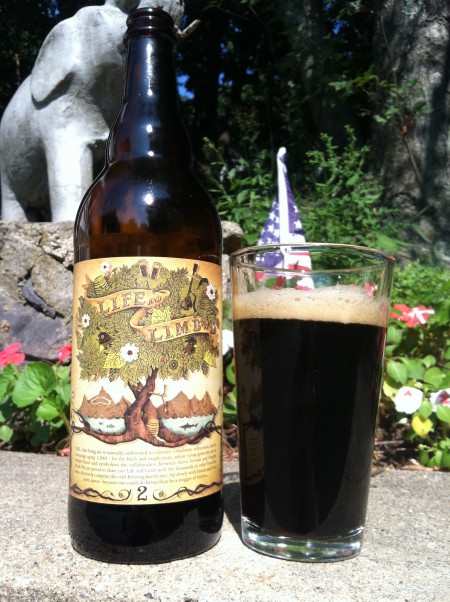 What do the Mega Powers, the G.I. Joe episode The Greatest Evil, and today's brew have in common?
Well, dummy-pants, they are all the product of unlikely – but wonderful – collaborations!
At the beer-market today, a delivery-dude saw me scouring the shelves for the perfect inebriator. "Hey kid," he said, "give this a try. It's a team-up between Sierra and Dogfish." He then handed me a bottle of Life and Limb and dispersed into an ethereal gray, drifting into a nether-realm, awaiting the next opportunity to help a beer-drinker in need.
I was certainly intrigued. After all, the last time I drank a double-brewery collaboration, I was blown away. But to be fair, I'm a firm believer in the power of synergy – when two bad-asses team up, the combined result is far greater than just two bad-asses. In fact, the result is worth far more than just a few dollars.
After reading the label, I was even more excited to toss this ale down the hatch. Here, check it out:
Our decision to make this ale together comes from a shared passion for bring natural beauty into the brewing process. Both of our families own and operate independent breweries and our co-workers, who share this passion, are an integral part of our extended family.

LIFE – For the living brewer's yeast in every bottle working in vibrant unison to enhance complexity, refinement, and to encourage aging.

LIMB – For the two syrups used in making this ale (maple and birch) which contribute to its unique flavor profile and symbolize this collaborations between Sierra Nevada and Dogfish Head.
Oh snap!
After hitting up the Life and Limb website, I learned that this is the second brewing of the ale, the first having been a wildly successful run in the fall of 2009. Well goddamn, guess I'm dranking some straight-up celebrated shit!
I poured Life and Limb into a standard drinking glass for pre-drankin' inspections From what I saw, the beverage is dark as the devil's soul and as foamy as his bath water. The ale has a wonderful odor, hinting at roasted caramel notes. Perhaps that can be attributed to the aforementioned inclusion of two syrups. Hah! Take that, tree-bastards – we're bloodletting you and getting drunk in the process!
Although impressed initially, it wasn't until I drank the potable that I knew Sierra Nevada and Dogfish Head were justified in acting on the carnal desires of their forbidden love. Life and Limb is dark and rich and slightly fruity, as though it had dressed itself in its most expensive suit and danced all night at the Vanilla-Oak soiree. Although it's got some spring in its step, the brew is also dark enough to please my buddy Joseph Conrad. Additionally, the mouthfeel is one of a syrupy-exchange that quickly dissipates, thereby leaving an impression and making the drinker long for more.
Life and Limb is a goddamn beautiful brew.
And as I such, I award it Friday Brew Review high honors: A!