In The DC Relaunch, Superman Is A Single, Flightless Orphan. Frown!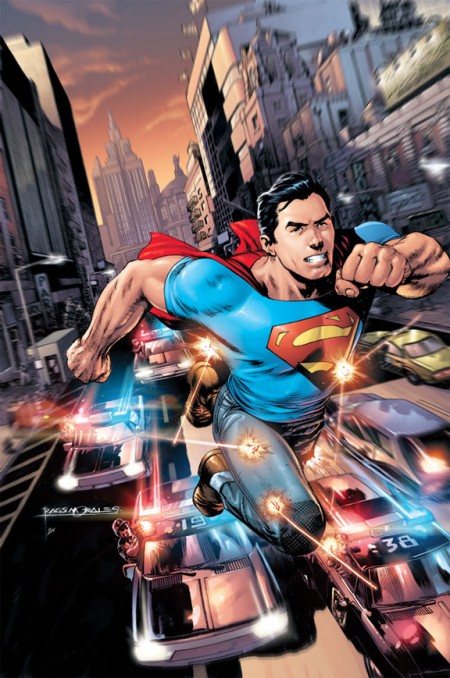 It seems that DC is going all out in their shaking up of Superman's mythos for the DC Relaunch. The Clark Kent we're getting in September is going to be markedly different than the one we get right now. Kent is going to be an orphan twice-over who initially can't fly, and isn't tapping any Lane booty. Dude's sufferin'.
Also interesting is that the Superman titles will be taking place in different points in time.
In the pages of ACTION COMICS, writer Grant Morrison and artist Rags Morales will present humanity's first encounters with Superman, before he became one of the World's Greatest Super Heroes. Set a few years in the past, it's a bold new take on a classic hero.

* This Superman is very much an alien, one struggling to adjust to his adopted home. In the series, he must come to terms with both the loss of his home world, as well as the loss of both of his adopted parents. He is more Kal-El from the planet Krypton than Clark Kent from Kansas. He's a loner trying to find his place in the world.

* The series' first storyline will explore the origins of Superman's costume, as it evolves from a look that includes jeans and work boots to a new look: a suit of battle armor that pays tribute to his Kryptonian past.

* His great powers have limits. When the series begins, Superman can leap tall buildings, but his ability to fly is in its infancy.

And in the SUPERMAN ongoing comic book series, by writer George Perez and artist Jesus Merino, will be set in present day continuity and will unleash a series of new challenges for Superman and his alter ego Clark Kent.

* Clark Kent is single and living on his own. He has never been married.

* Lois Lane is dating a colleague at the DAILY PLANET (and his name isn't Clark Kent) and she has a new position with the paper.

Timeless and modern, classic and contemporary, but younger, brasher and more brooding, this is Superman. The New Man of Tomorrow.
Thoughts?