Christopher Meloni In Talks To Join 'Man of Steel.'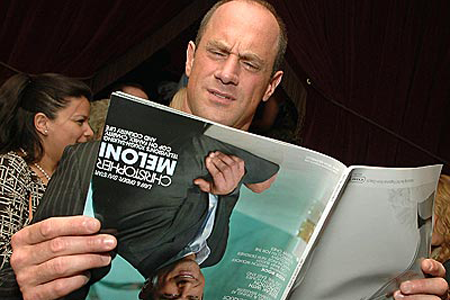 Zack Snyder continues to challenge my desire to write off his movie before it is even filmed. He's doing so through an utterly disgusting cast. In a sort of, Jesus Christ, this cast is amazing sort of disgusting. The latest actor rumored to be joining the nauseatingly great ensemble is  Christopher Meloni.
Christopher Meloni, who a month ago surprised everyone by exiting his longtime home as co-star of NBC's Law & Order: SVU, is in line for a big-time follow-up. I hear he is in negotiations for a major role in Man Of Steel, the Superman franchise reboot from Warner Bros that Zack Snyder is directing. No word yet on what part he might get, though. He would join such big-name players as Russell Crowe, Julia Ormond, Kevin Costner and Diane Lane in the film, which stars Henry Cavill as Superman and Amy Adams as Lois Lane.
Like I said, this cast is a boner in the making.