[Interview] Dragotta Check It Out!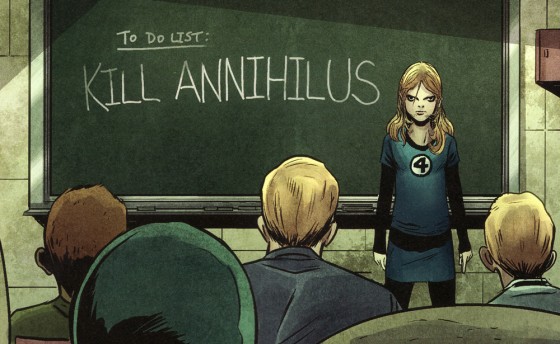 Last week, I described Fantastic Four #588 as one of the emotionally charged comics I've ever read, a single issue that pulls on the heartstrings in ways that most superhero books just don't. Ever. Moreover, I found the book to be an especially affective insight into the loss of a loved one because of its omission of narration, dialogue, and exposition. Instead, the reader must tacitly absorb the death of Johnny Storm through Nick Dragotta's art.
I was so impressed by Dragotta's work that I visited his website, hoping to learn more. And while his blog is definitely worth checking out, it just wasn't enough for me. Ravenous, I decided to ask him for an interview. To my delight, he obliged.
What follows are Nick Dragotta's incredibly candid, insightful, and entertaining answers to my buffoonish questions. More than just a skilled artist (and he definitely is), Dragotta proves to be a down-to-earth chum and all-around decent human being.
And he's also a fan of Anderson Silva, which is sure to earn him points in Caffeine Powered's book.
+++
I. For those unfamiliar with you and your work, what're you all about? What is the story of Nick Dragotta as of February 2011?
As of February 2011…I'm just trying to stay busy, keep progressing, and make my deadlines. I wish the answer were more interesting, but sadly that sums up my life. Aside from the beautiful wife and a brand new baby boy!
II. How would you describe your artistic style? When someone looks at your work, how do you want them to feel?
For better or worse, I'd describe my style as a little bit of a throwback, hopefully with modern storytelling sensibilities. When someone looks at my work I hope they feel it in their gut. That's the whole point of what we do.  I want the reader to believe my characters actually exist and to care for them.  I also want them to think the drawing looks BADASS!
III. In the world of comics, where do you draw inspiration from? Are there any titles or creators that you find especially captivating?
This is a loaded question because I really love and am inspired by so many artists, both current and old.
I have a shelf in my studio that consists of my favorite Hall of Famers. These books and creators never fail to get me jazzed to draw. I'm just reading off the shelf, on it sits: Alex Toth, Jack Kirby, Moebius, Gipi, Jorge Zaffino, John Buscema w/ Bill Sienkiewicz, Katsuhiro Ottomo, Jordi Bernet, and a few Creepy collections. That's pretty much all you need, but I'm still discovering new and old artists everyday that I love. Recently I've been getting into concept art.
Of the newer guys in comics, I can't get enough of: Frank Quitely, Goran Parlov, Stuart Immonen, Richard Corben, Mike Mignola, Roland Boschi, Jordi Bernet, Eduardo Risso, JR JR, on and on and on. I love it all.
My friends are a constant inspiration also. I went to art school with Shawn Crystal and Brad Simpson.  Shawn is a currently drawing a bunch of stuff at Marvel, and it's great to shoot the shit with him, share art and push one another to be better.  Brad Simpson is a name you may recognize as a colorist on some of my books.  Most notably Deadpool Team-Up #886 and I Am an Avenger #5. We constantly crit our work and push one another to be better.
Everyone listed above, old, new, friends… sure they inspire, but more so they teach. I try to take and learn from each of them, along with really enjoying their work.
IV. Outside of comics, where do you find inspiration? Film? Music? The hobo who lives in the dumpster behind your apartment and has correctly predicted that last twenty Stanley Cup Finals?
I find inspiration in it all.  Hell, I could be that hobo making predictions one day. Instead of picking Stanley Cup winners though, I'd predict a sure thing like the Oscars.  When's the last time that ceremony surprised you?
Music wise, I'm listening to Sir Luscious Left Foot as I write this.
V. What has been the highlight of your career thus far? Any terrible ruts that you had to climb out of?
Highlight, easily Fantastic Four 588.  I think more people saw that issue than all of the work I've done in the comic industry combined up until this point.
Ruts happen all the time, and the only way to get out of them is to hop a train to Cranksburg. Sometimes I'll make a stop in Ruttsville or Sleepytown, but I always get back on that train to Cranksburg.  All aboard!
VI. What's next on the horizon for you? Anything going on right now that you want to plug?
How about my creator owned project Howtoons!  It's an educational children's comic I do with my wife and Saul Griffith. The whole goal of the strip is to teach kids how to build things using everyday household goods, integrating the directions into the storytelling. I'm probably a better known artist with soccer moms than comic fans. Howtoons has taken us all over, won some awards, and made me a guest on The Martha Stewart Show.  You can see a bunch of the work at Howtoons.com
As far as super hero stuff – there's a few things in the pike at Marvel.  I don't think I can say yet what they are yet.  I will be doing a short story for DC, but don't worry, I'm still a Marvel man through and through.
VII. Describe your dream project.
Getting on something long term.  Like 12-100 issues straight.  Try and do a classic run on something.
VIII. What advice would you offer those trying to make it as artists/writers/creators?
There's really nothing stopping anyone from breaking into comics.  Look at the current crop of big time pros.  Especially the writers, I'd say a majority of them broke in by making their own comics first. You have to put the work in, constantly critique yourself, and don't be discouraged by those who say you're not good enough.  I've had editors tell me I'm going to have a hard time making it in comics, think of them as hobby, blah, blah, blah.  The only thing i learned from them was not to show my work to editors that most likely would never hire me anyway, because my brand of comics didn't fit their taste to begin with. Target companies and editors who publish the books you like, take what they say and learn from it. Constantly improve.   We all learn on the job, whether it be for yourself or a big-time company. Hell, I work at Marvel and I still have no clue what I'm doing.
IX. Which is the more devastating finishing move — Hogan's Atomic Leg Drop or Macho Man's Top Rope Elbow Drop?
Neither, Anderson "The Spider" Silva's front kick to the chin.  I'm a UFC man, but if we're going wrestling I'd say Jimmy "Superfly" Snuka's Superfly Splash!
X. Why comics? Why not try your hand at doing storyboards for Hollywood or designing  cereal boxes?
Comics are the genesis for everything, and personally the most artistically rewarding.  I also love the quickness, and output it takes to do them.  A lot of beauty can come from spontaneity.
XI. Final thoughts — anything else you'd like to share?
I want to see Omega-Level.net become the greatest pop culture website that ever existed.  Love the name.  Onward!